While visitors flock to see the Acropolis and other ancient sights of Athens, many are unaware of its vibrant food scene. The best Athens restaurants range from street food kiosks and traditional tavernas, to trendy all day cafes and top chefs offering modern Greek cuisine. Everyone will have their favourites, since Athens is like a series of villages, each with its central square and numerous places to eat. Having stayed in or visited a few of the different neighbourhoods, here are some of the places to eat in Athens that I've personally enjoyed or been recommended.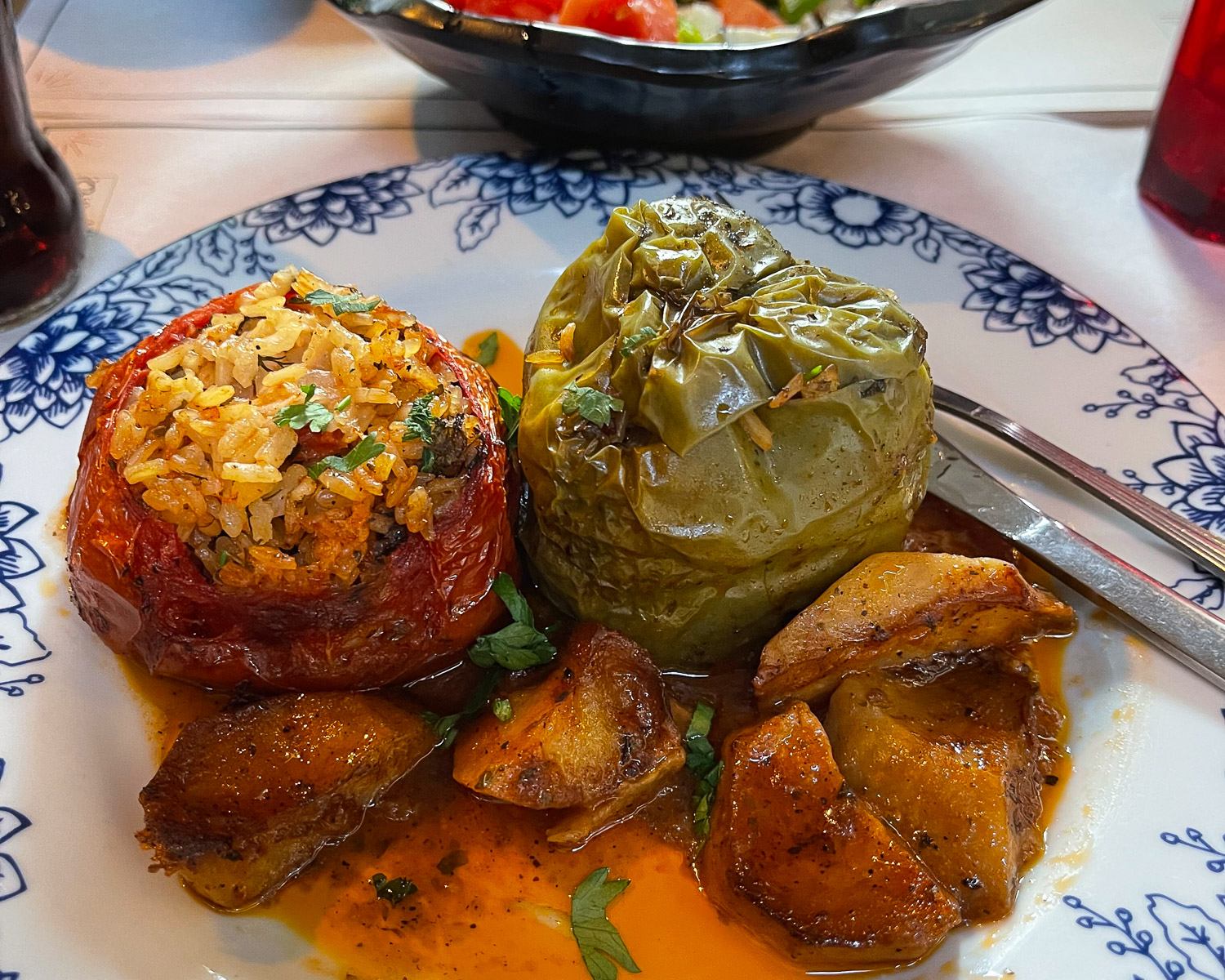 This article may contain affiliate links that provide commission on purchases you make at no extra cost to you. As an Amazon Associate I earn from qualifying purchases.
Restaurants in Plaka Athens
Tucked under Acropolis Hill, Plaka is one of the favourite tourist areas, with cute neo-classical houses and views of the Acropolis. The area has more than its fair share of tourist restaurants in Athens, and I'm not a big fan of those that post a waiter outside trying to talk you in. Having said that, there are some undeniably atmospheric places you might consider for a drink or dinner.
Plaka Steps in Athens
The most photogenic bars and restaurants are to be found along the "Plaka Steps", narrow lanes with steps that run up the hill towards the Acropolis. In summer tables and cushions are put outside each restaurant and people sit on the steps themselves with a drink or a meal, to see and be seen.
Learn about the food in Athens – 23 dishes and foodie experiences you'll want to try!
I find sitting on the steps themselves, would be like dining in a goldfish bowl, however many of the restaurants have roof terraces and this is where I'd prefer to sit, with a fine view of the Acropolis above. Look on the map for the two lanes of Mnisikleous and Erechtheos, near the Tower of the Winds to find the location of most of these restaurants.
Yiasemi – this vegetarian cafe bistro is one of the most atmospheric of the restaurants on Plaka Steps, with a cosy interior in winter and a pretty roof terrace for summer.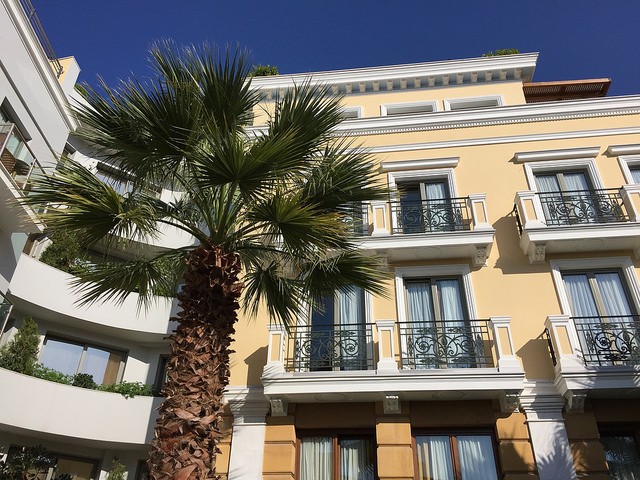 Stay at the Electra Palace Hotel – an elegant, classic 5 star hotel, close to the Acropolis in Plaka – read my review
Restaurants in Monastiraki Athens
Known for its flea market, Monastiraki Square is a busy metro stop and a tourist hotspot. There are always plenty of people moving through, so keep a close eye on your valuables in the square and surrounding lanes.
Along the pedestrianised street of Mitropoleos leading from the square are numerous grill style restaurants, which could be a good place to stop if you want a cheap and cheerful meat based meal. I didn't eat here myself so I'd recommend you look for the places that appear busy and most popular with locals.
Read more about uncovering the delicious food in Athens
For somewhere a little more local and tucked away try;
Couleur Locale (Normanou 3) – A popular all day cafe bar with a second floor restaurant and rooftop terrace, a good place for a coffee, cocktail or burger. The entrance is a bit tucked away close to the flea market off Monastiraki Square.
TAF – The Art Foundation (Normanou 5) – right next door to Couleur Locale, TAF is a cultural space with a bar in its central courtyard. The building showcases typical Athenian worker's houses from the 19th century that have been restored, with small houses that shared facilities for kitchen, bathroom and laundry. In the shady courtyard you can order a drink or coffee away from the Monastiraki bustle, with drinks, cocktails and music as the evening wears on.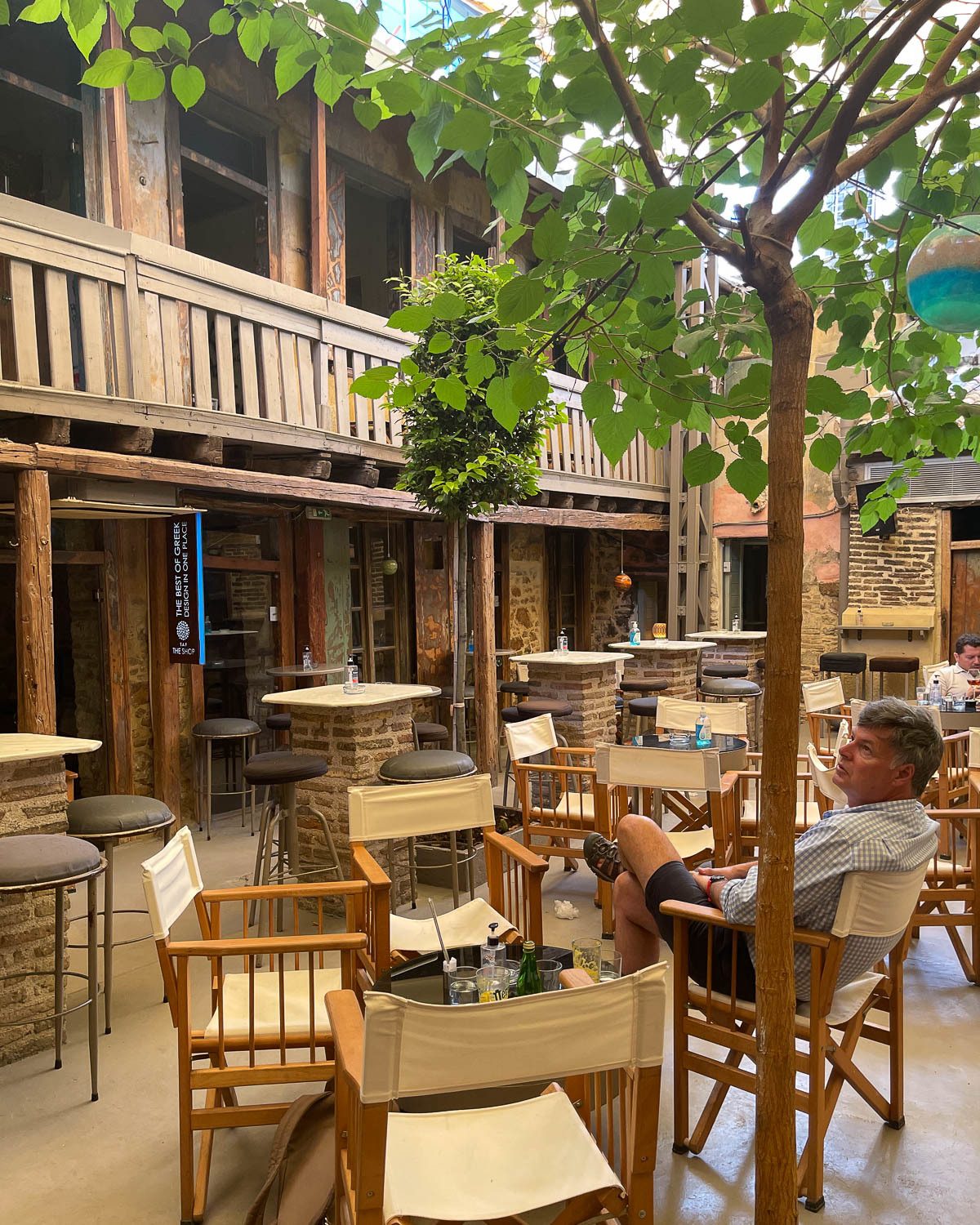 A for Athens – Although I didn't visit myself, the roof top bar and restaurant of this hotel overlooking Monastiraki Square is one of the best known places to sit at sunset for a cocktail with a view of the Acropolis.
If you're visiting the Acropolis in Athens – here's what you need to know
Looking for a food tour in Athens? We tried and can recommend this one with Athenian Tours
Restaurants in the Historic triangle (between Monastiraki and Syntagma)
Moving away from Monastiraki Square, there are many excellent restaurants and street food places to be found in the area known as the Athens historic triangle. To locate this on a map, draw a triangle between Monastiraki Metro, The Central Municipal Market of Athens and Syntagma Square.
This is one of the oldest neighbourhoods of Athens, with many pedestrianised streets, the best known being Ermou Street which is lined with major high street fashion stores. I'd probably avoid eating on Ermou Street itself as it's so commercial, but there are many excellent restaurants in the roads that lead off it or run parallel.
St Irene's Square in Athens
Platia Agias Irinis (St Irene's Square) – the streets (Athinaidos, Aiolou) and square around the church of St Irene once housed a flower market. This square is a great place to meet friends or head if you don't know where to eat, as there are numerous excellent options, many of them serving inexpensive street food.
For Souvlaki you'll find the well known Kosta Souvlaki takeaway (Pl. Agias Irinis 2), which always has a queue, or the more modern Tylixto Greek Wrap (Aiolou 19) or Hoocut (Pl. Agias Irinis 9) which was featured in the TV programme Gordon, Gino and Fred's Road Trip. Numerous bars and restaurant with outdoor seating spill into the square, so it's a fun area to visit in summer.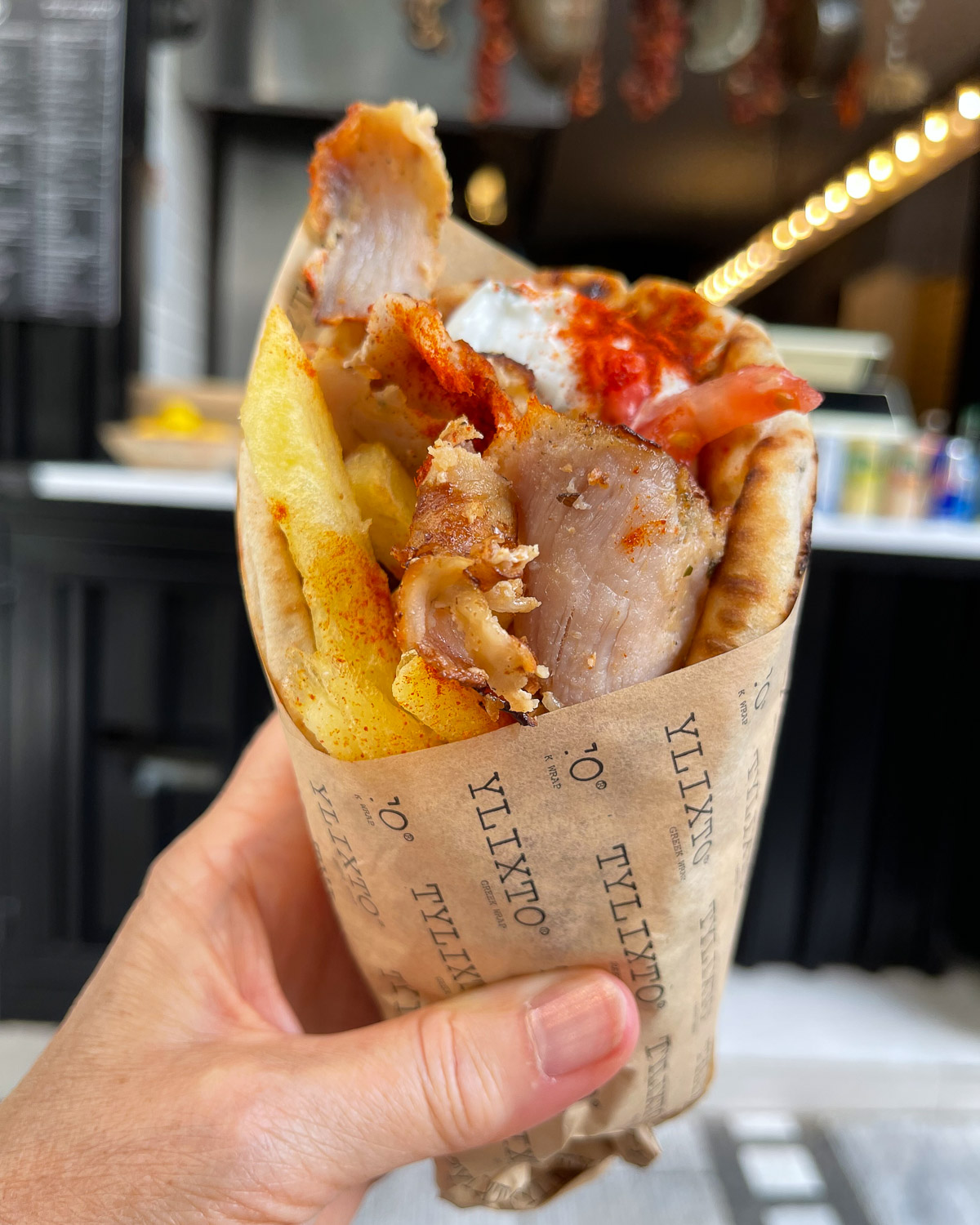 Ariston (Voulis 10) – close to Ermou and Syntagma, this well known pie shop sells a wide range of pies in addition to the traditional tyropita (cheese pie) or spanakopita (spinach pie). If you need a late breakfast snack, try the sweet custard pie bougatsa, or for lunch sample Ariston's specialty of kourou, a half moon pastie with a buttery filo case and filling of feta cheese.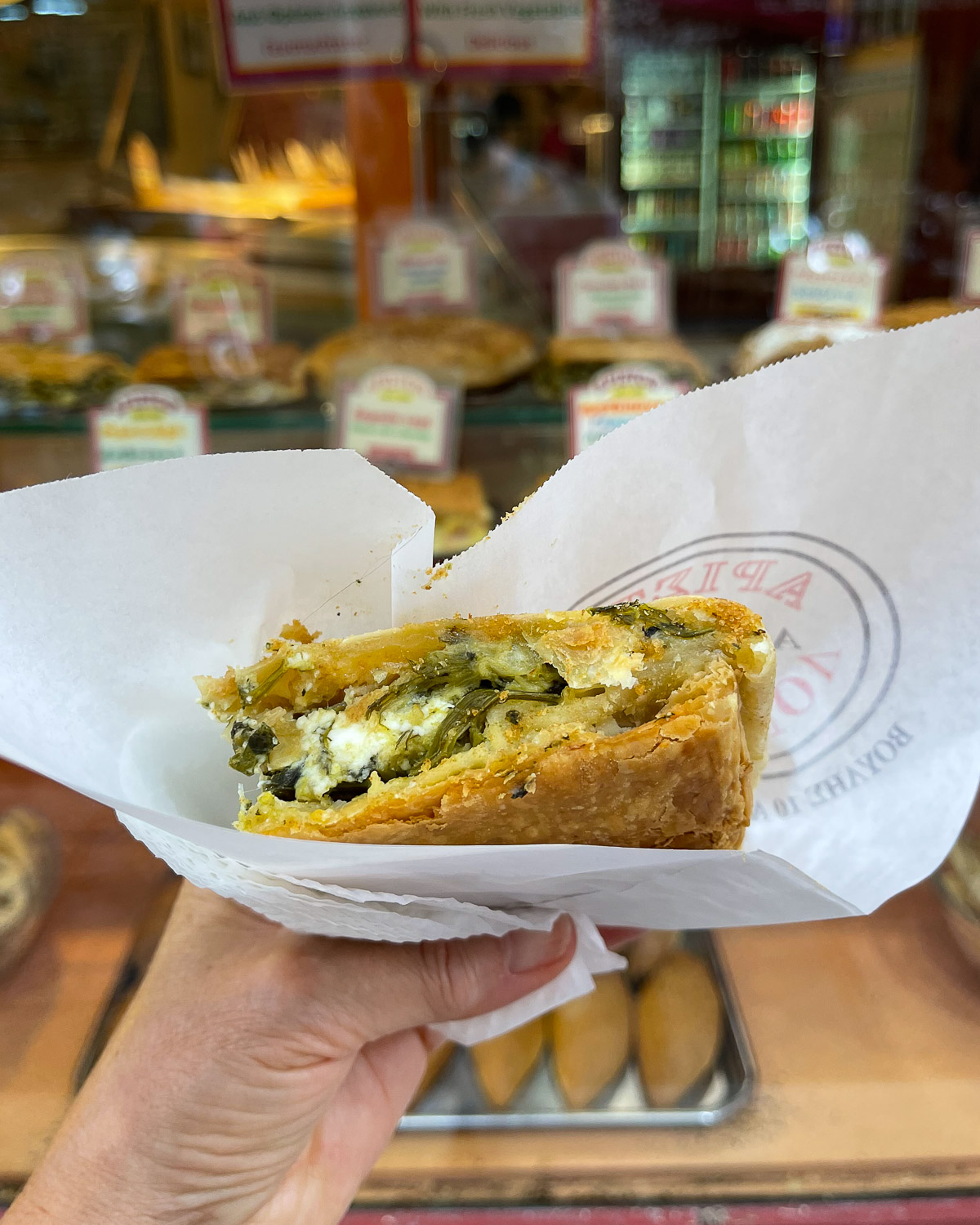 Feyrouz (Karori 23 / Aiolou)– this popular and reasonably priced takeaway with just a few tables serves excellent Levantine street food, with Lahmatzun wraps, Peinirli filled pastries and home made soups. They have opened a second bakery with sweet cakes and coffees just across the street.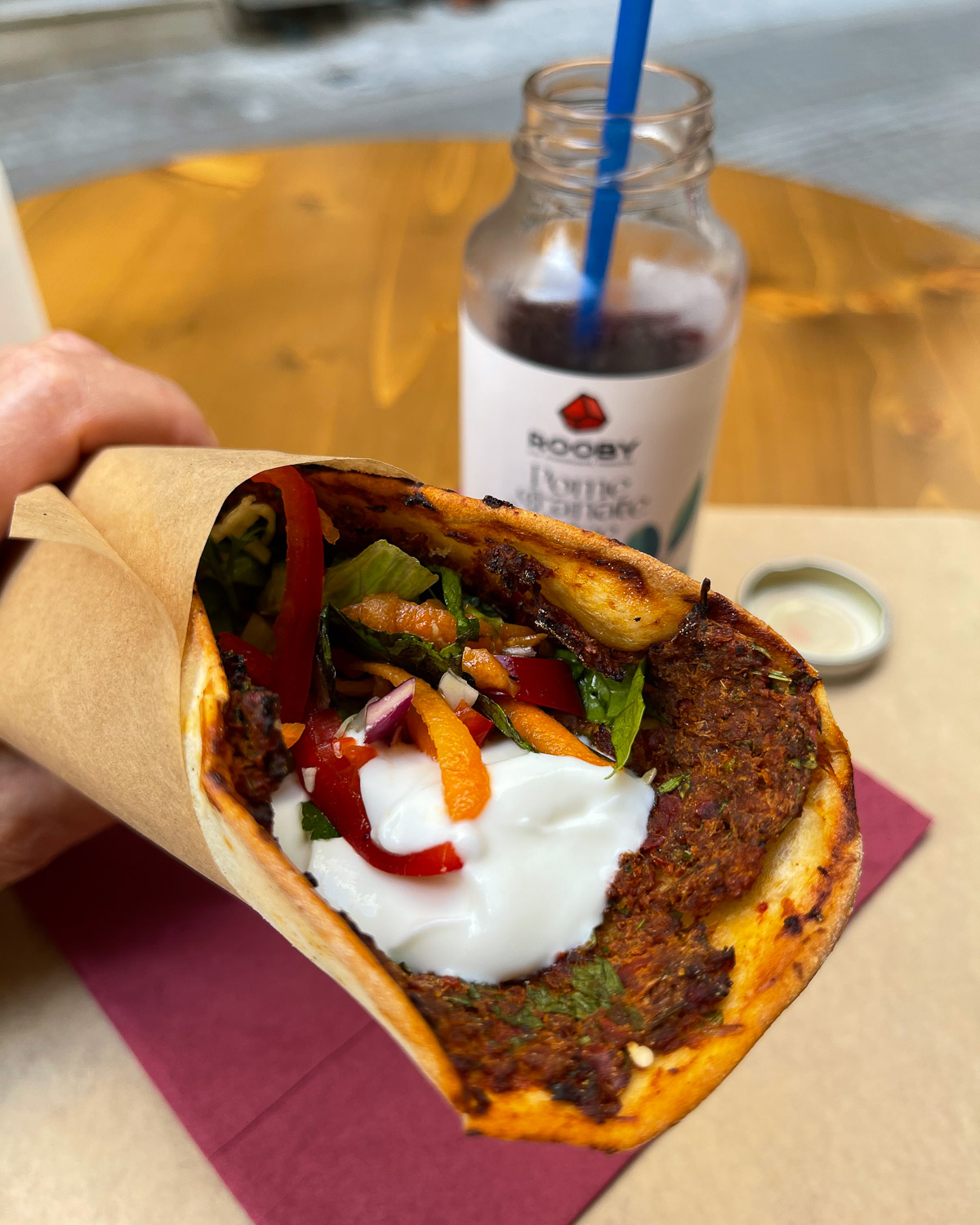 Six d.o.g.s (6-8 Avramiotou)– the entrance down a side street doesn't give much away of the modern bar, restaurant and huge shady courtyard that's surrounded by other buildings. It's a very chilled place to come for lunch or a drink on summer days, when there's a separate menu of Lebanese dishes. In the evening the atmosphere changes to a cool bar serving Thai dishes and nightclub with live music and DJs.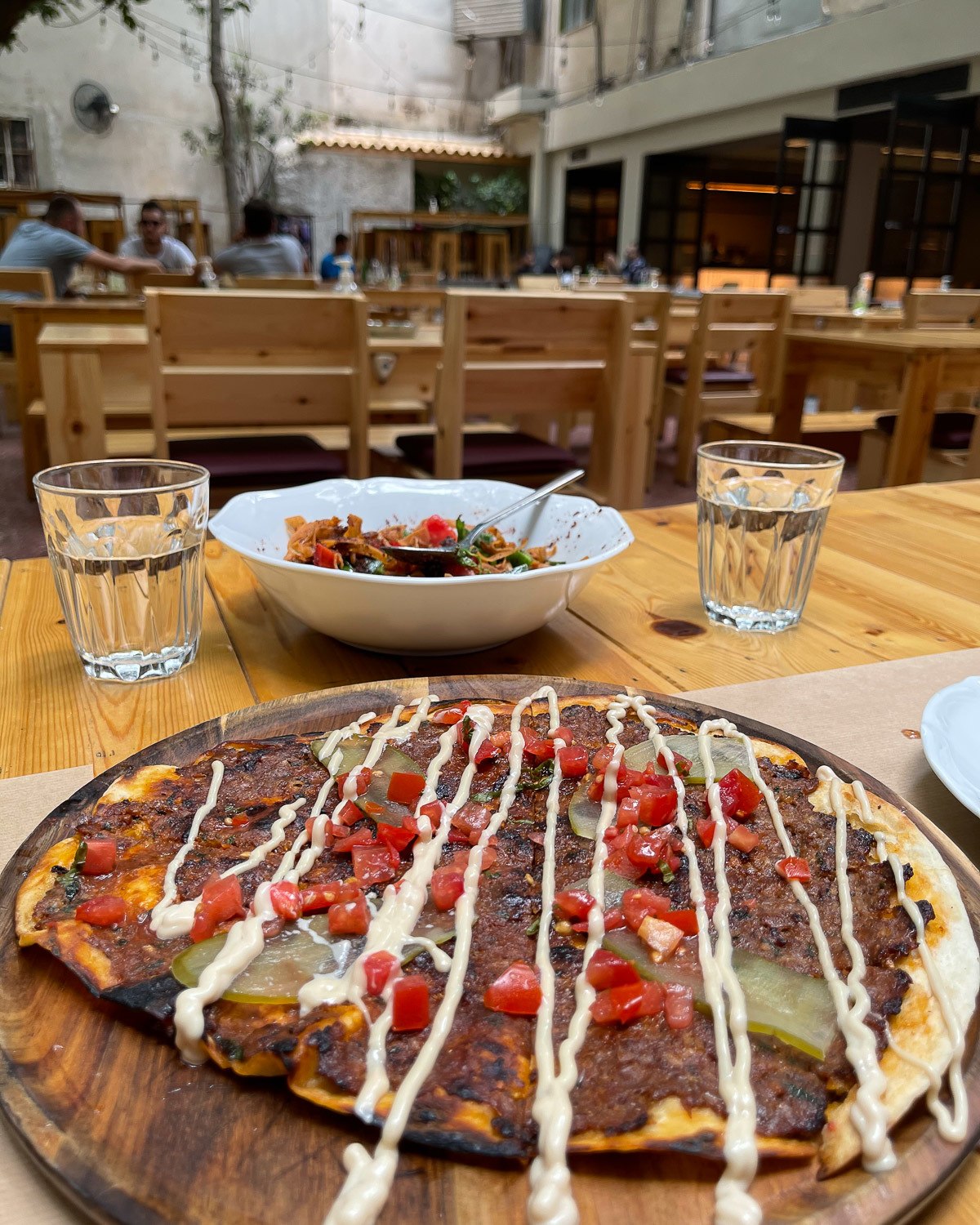 Read about the best things to do in Athens for culture lovers
Tzitzikas & Mermigas ( Mitropoleos 12-14) – serving a modern take on traditional Greek dishes, this is a good choice of restaurant close to Syntagma Square. The menu showcases regional ingredients with good salad and veggie choices, but prices are reasonable considering the central location and the decor is a cute take on a retro grocery store.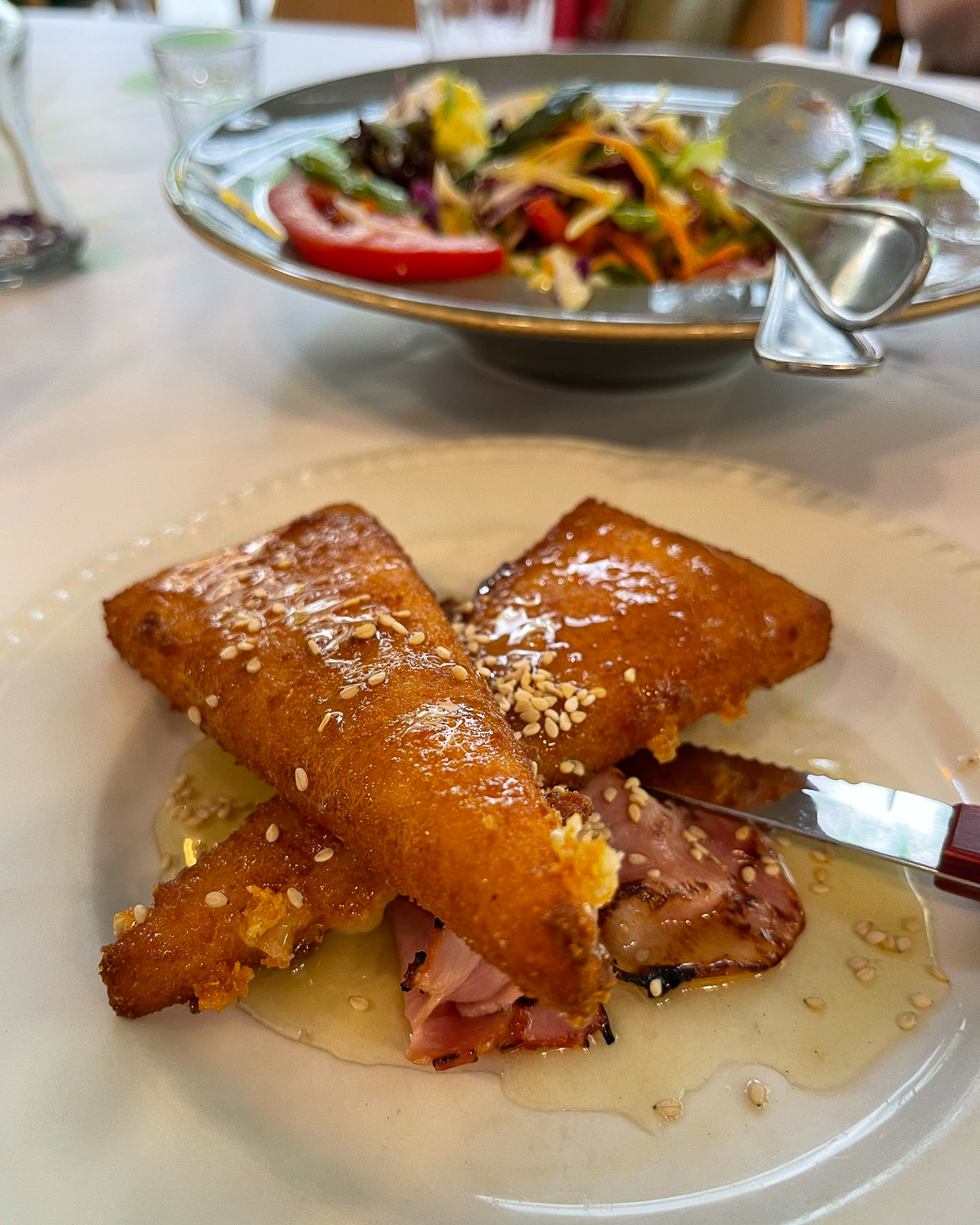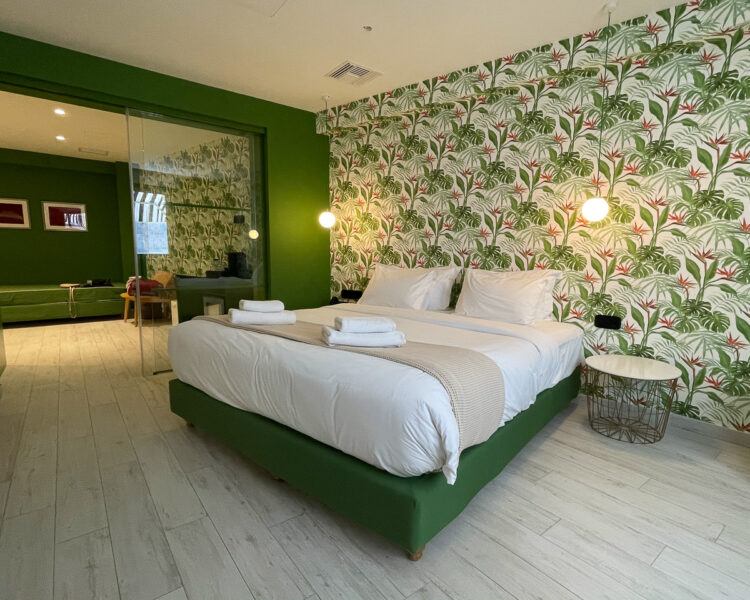 Stay at the colourful Boutique Hotel Athens4 close to the Central Market – read my review
Restaurants in Psiri Athens
Located just north of Monastiraki Square, Psiri is one of the oldest neighbourhoods in Athens. This is where crumbling old buildings and street art, mix with renovated houses, artisan workshops and stylish restaurants. Above all Psiri is a fantastic area for eating out in the evening and is known as one of the top nightlife districts of Athens, with streets of busy restaurants, especially in summer.
Check out Athens street art – discover these amazing murals and artists!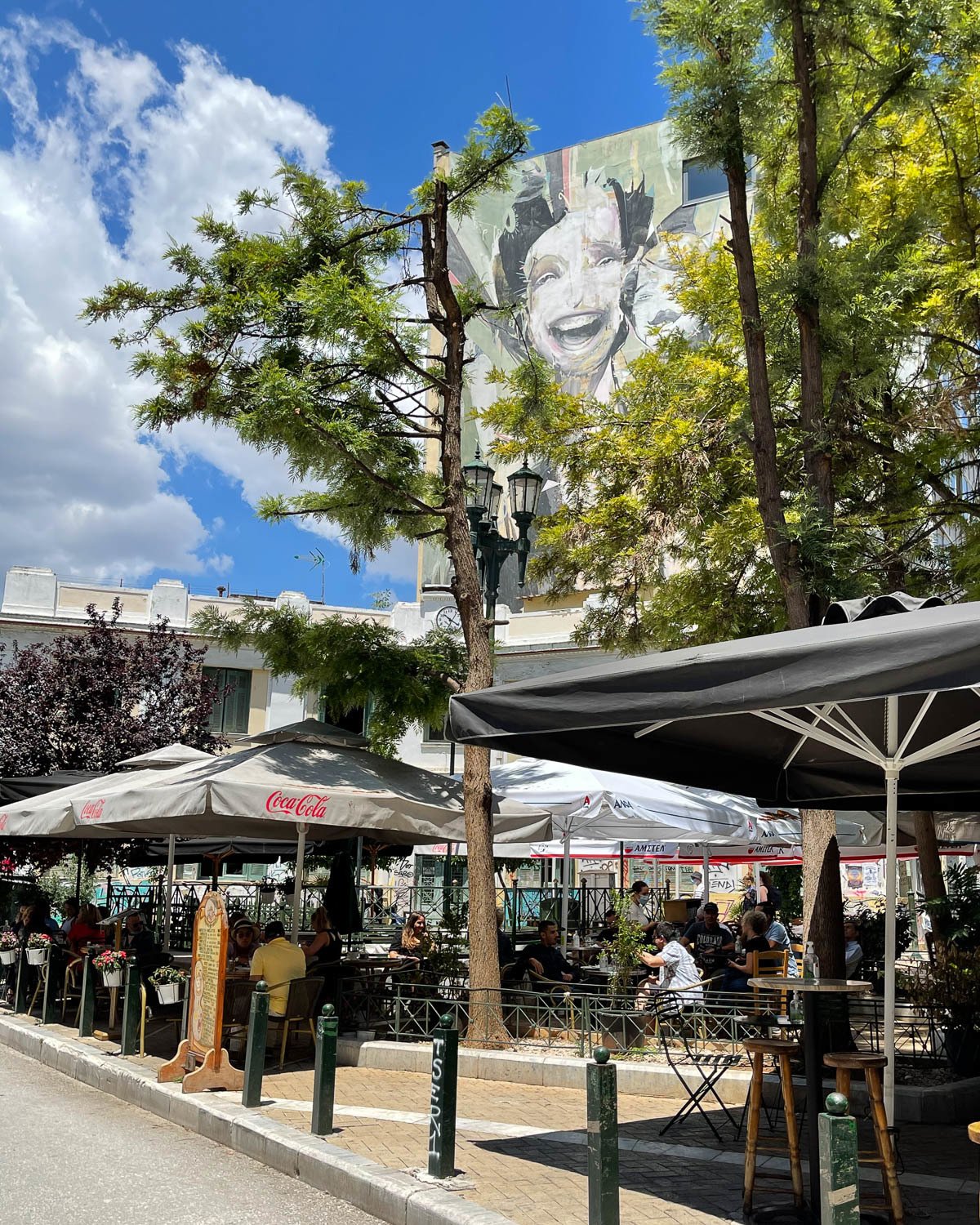 By day the atmosphere is more sleepy and laid back, perfect to sit with a coffee in the central Plateia Iroon (Hero's Square) and watch the world go by. If you are visiting during the daytime I'd start at the numerous bars and restaurants around Plateia Iroon, then follow some of the roads that radiate out from here, especially Ag. Anargion and Taki which are packed with places to eat.
Nancy's Sweet Home – on the corner in Plateia Iroon, this Serbetia cake shop and cafe is one of the most instagrammable in Psiri, with a cosy interior in the old building and tables outside in the square. They sell a delicious range of traditional cakes and pastries, which you can select at the counter to enjoy with a coffee.
Check out my neighborhood guide to Psiri Athens – for street art and nightlife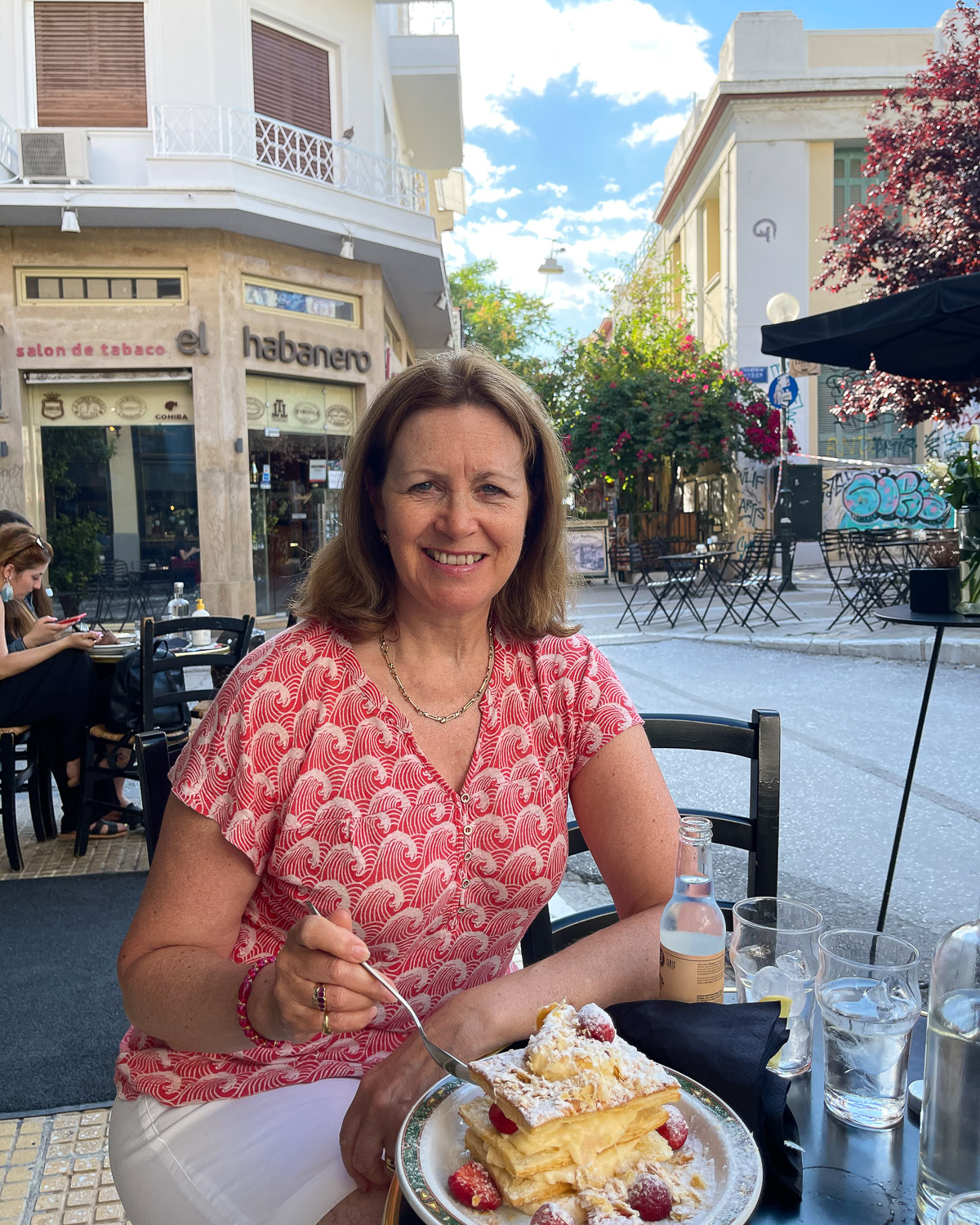 Bougatsadiko Thessaloniki – next door to Nancy's Sweet Home, this traditional pie shop is where we tried bougatsa, the sweet breakfast pastry of Greece as well as some of their other traditional feta and spinach pies. Originating in Thessaloniki, bougatsa is made with layers of filo pastry, filled with custard cream and sprinkled with icing sugar and cinnamon.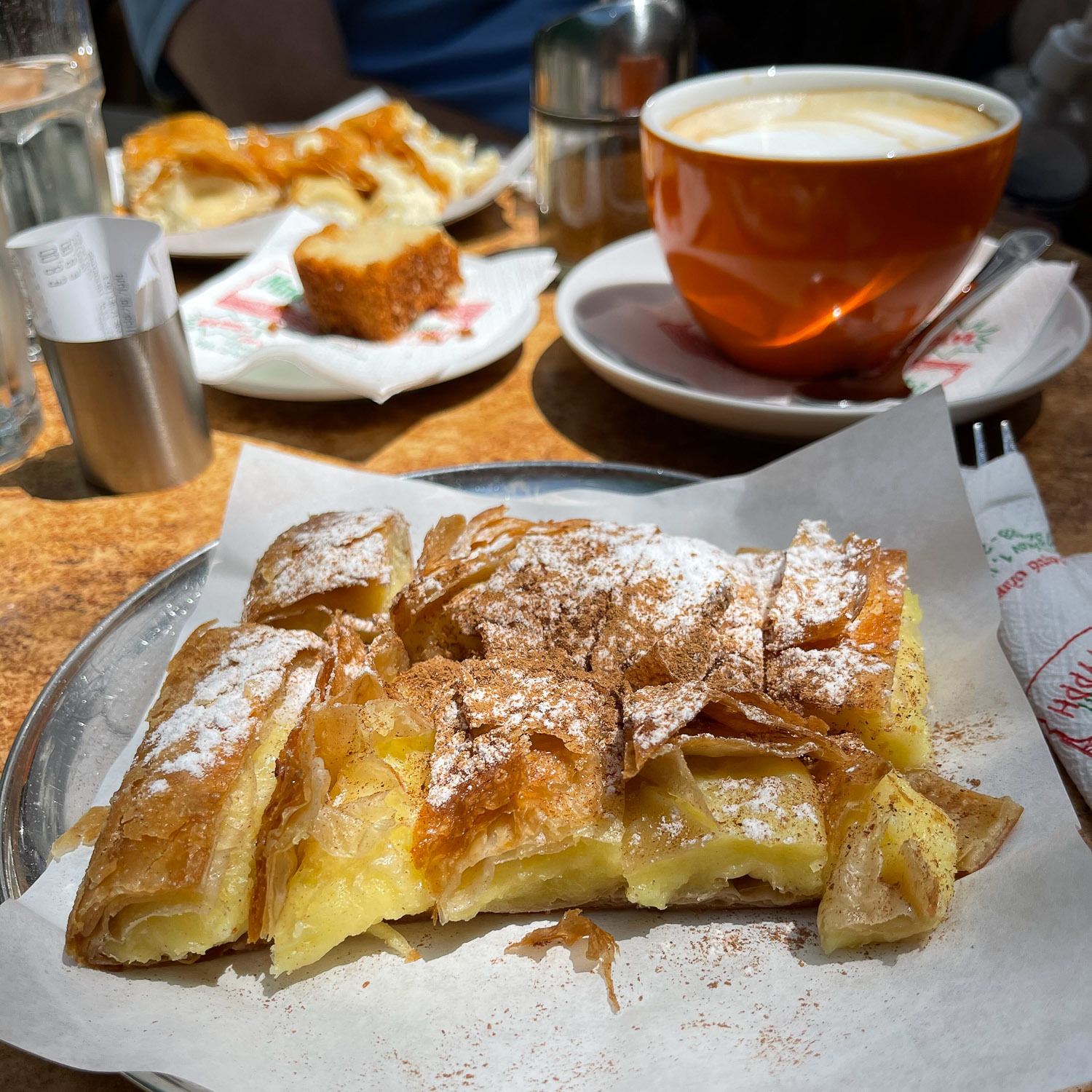 Looking for a food tour in Athens? We tried and can recommend this one with Athenian Tours
Kokkion – I visited this tiny shop selling artisan ice cream more than once, it's just off busy Athinas street that runs down to Monastiraki Square. The ice cream is freshly made on the premises and includes lots of interesting, seasonal and local flavours including vegan sorbets. If you are staying in an apartment locally, they sell tubs of ice cream to take away too.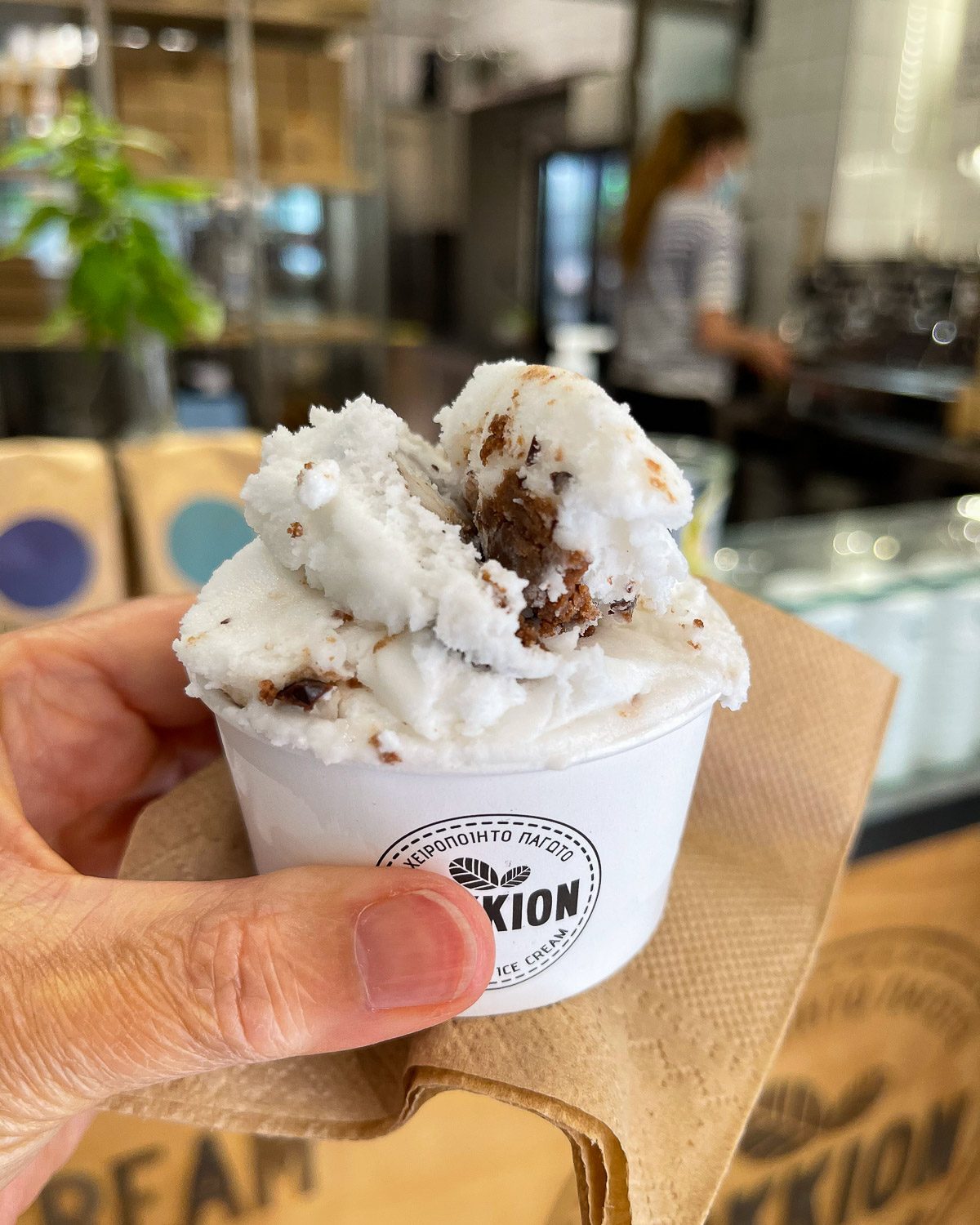 Little Kooks – one of the most photographed places in Psiri for good reason, I didn't eat there as I guess it's mostly about the atmosphere, but it would be fun for kids and those who love a bit of over-the-top Disney-esque decor. Order pancakes, ice creams and cocktails from the fairies posing as waiters and enjoy the quirky seasonal themed decorations.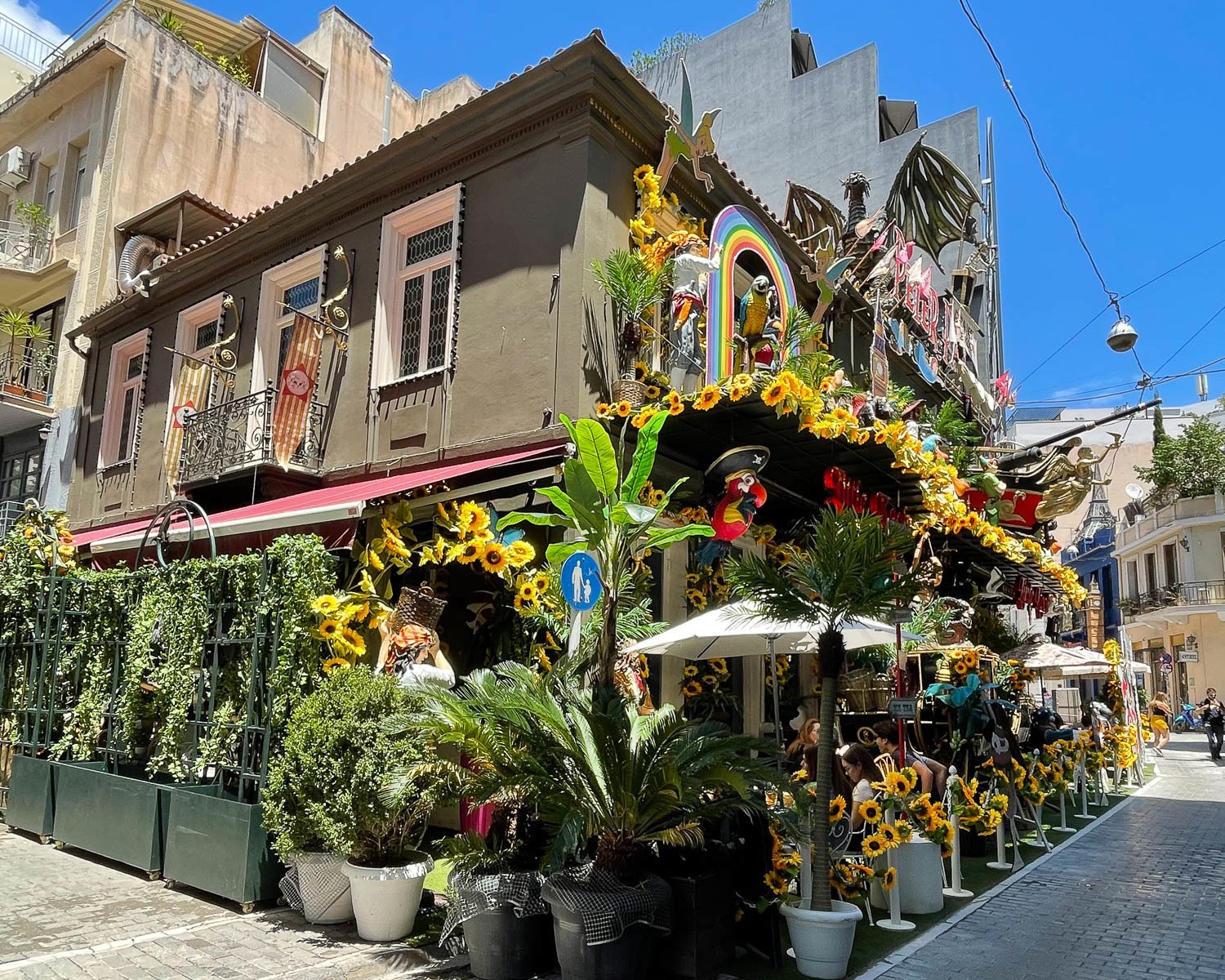 Nudie Foodie Psiri – tucked down the side street of Eschilou, this little cafe is worth seeking out, for those who want something healthy, veggie, vegan or gluten free. Chef Eva and her team serve colourful and tasty breakfast, brunch and lunch dishes as well as energising fruit smoothies (try the super cannabi smoothie) and gluten free cakes.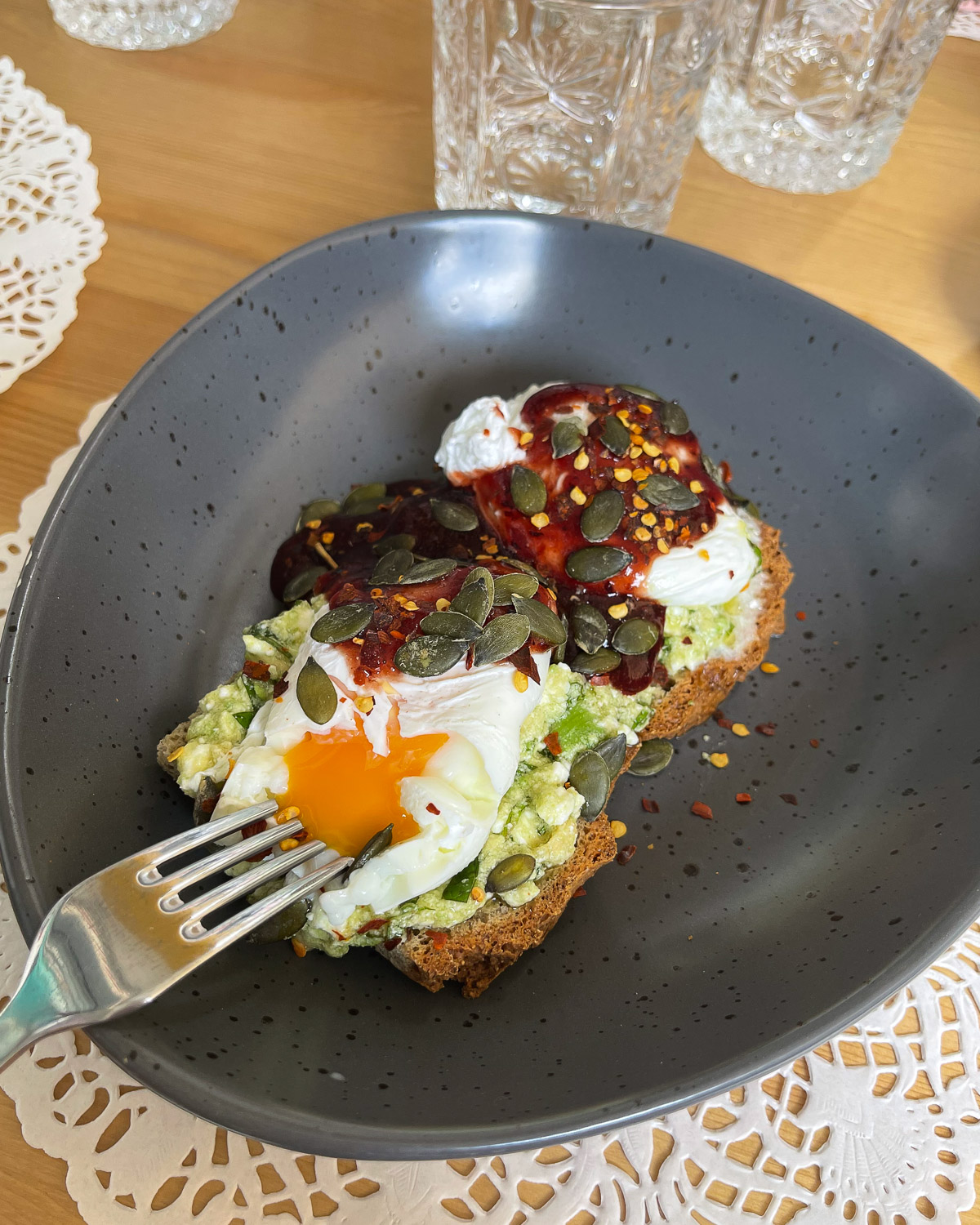 Voliotiko (Lepeniotou 1)– There are numerous traditional style tavernas in Psiri, including Voliotiko Tsipouradiko, where we enjoyed a meze lunch in their shady courtyard, with live music. In winter, their restaurant provides a cosy atmosphere in an old mansion built in 1862. The restaurant's name comes from the custom of drinking Tsipouro, a spirit a little like ouzo, which is consumed with small plates of food and is especially popular in the coastal city of Volos.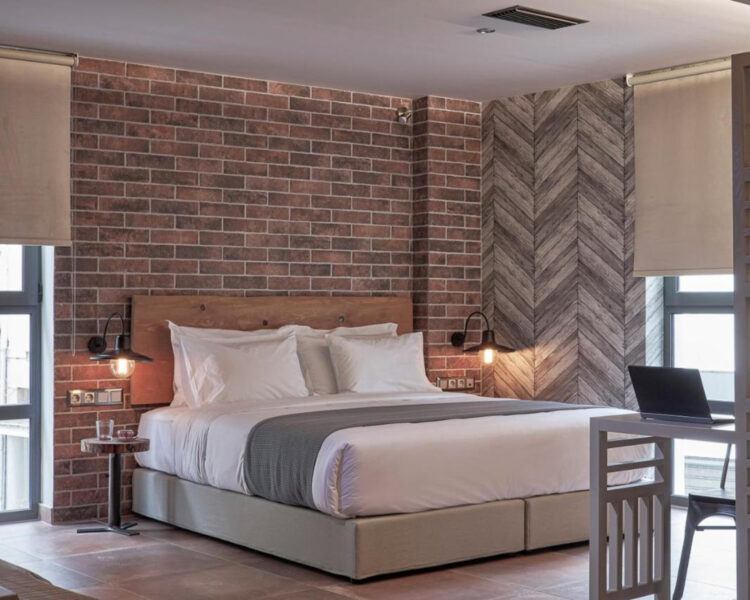 Stay at 18 Micon Street in the heart of Psiri – a boutique hotel in a converted warehouse.
Karamanlidika (41 Evripidou) – located close to the Central Municipal Market on Evripidou, which is known as the Spice Street of Athens. It's a deli and meze restaurant, which specialises in platters of Greek cheese and charcuterie such as Pastourma (air dried veal) or Soutzouki (dried spicy sausage). The deli part has limited space, but there's another hidden restaurant area beyond it.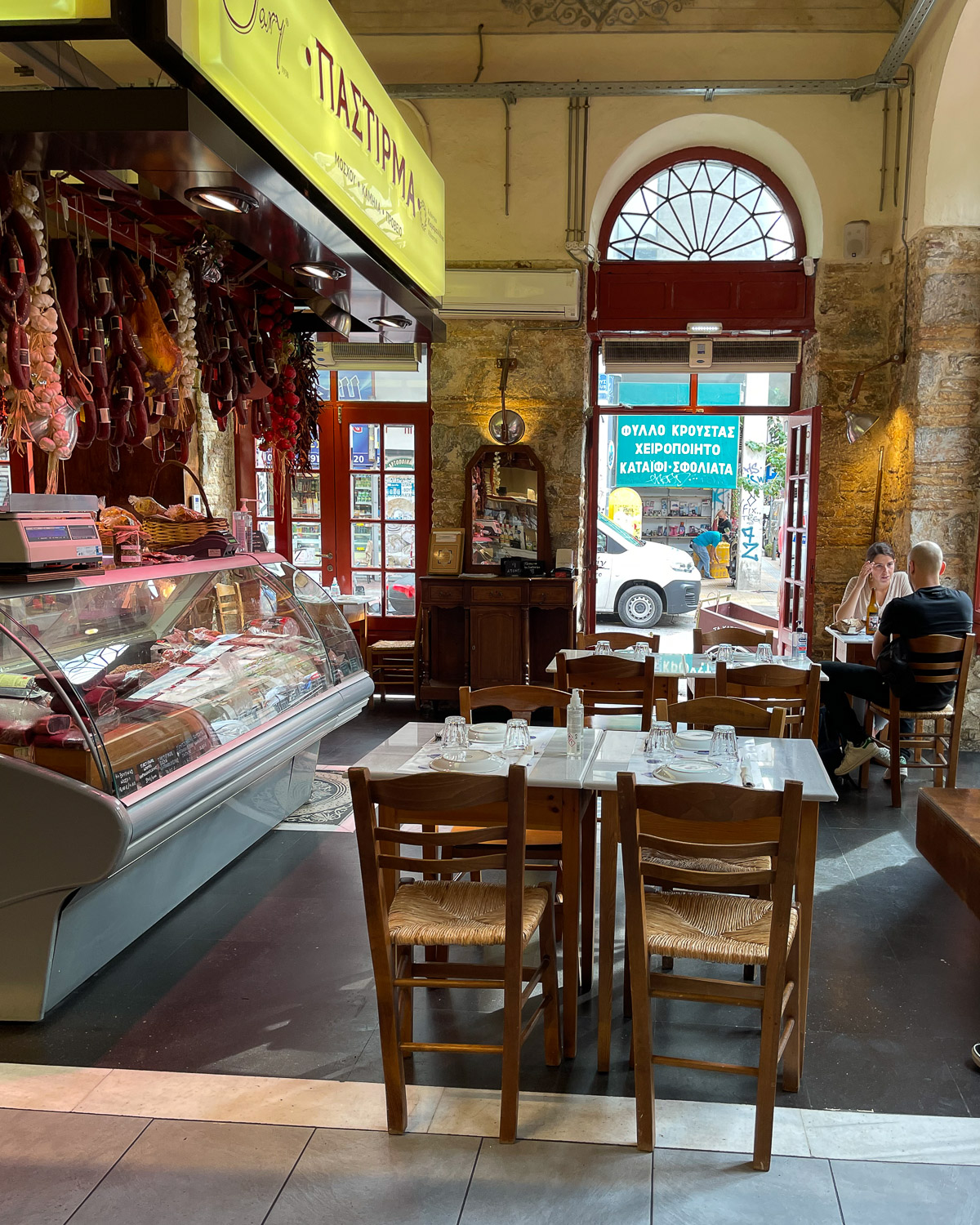 Atlantikos ( 7 Avliton) – Tucked down an alley on the border of Psiri and Monastiraki, Atlantikos is the closest Athens has to a fish and chip shop. They serve a whole range of inexpensive fish and seafood dishes and there are tables on the upper floor and in the street outside. The fish here is super-fresh, well priced, simply presented and the service was swift and friendly.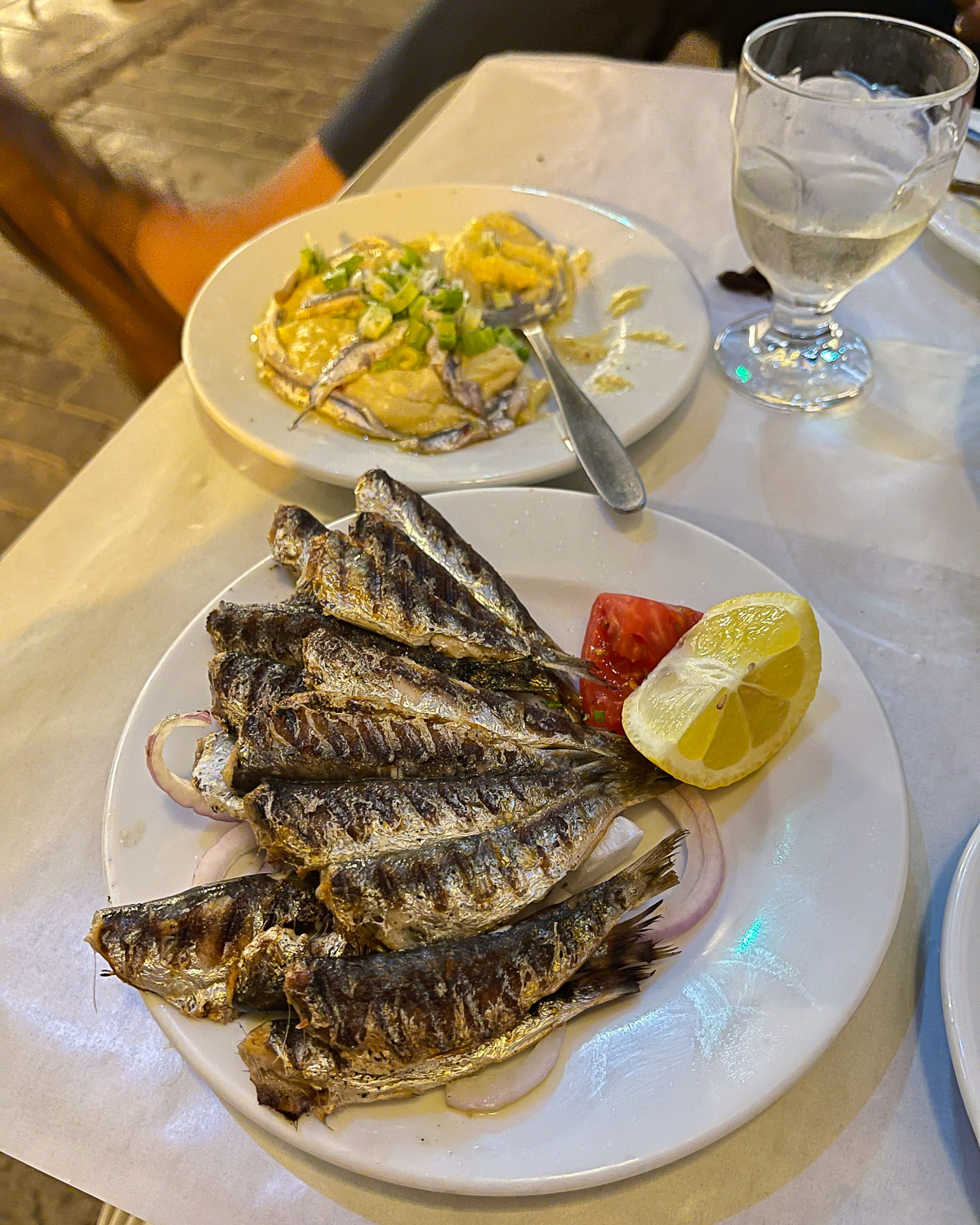 The Foundry Roof Garden – We loved this elegant rooftop bar and highly recommend it for a sunset cocktail with those all important Acropolis views. Take the elevator to the rooftop terrace of the boutique hotel on Sarri to discover the lush garden overflowing with a shady vines, herbs and flowering shrubs. They have a great cocktail and wine menu and serve pizzas made in their rooftop pizza oven. If you'd like to stay at The Foundry Suites you can check prices and availability here.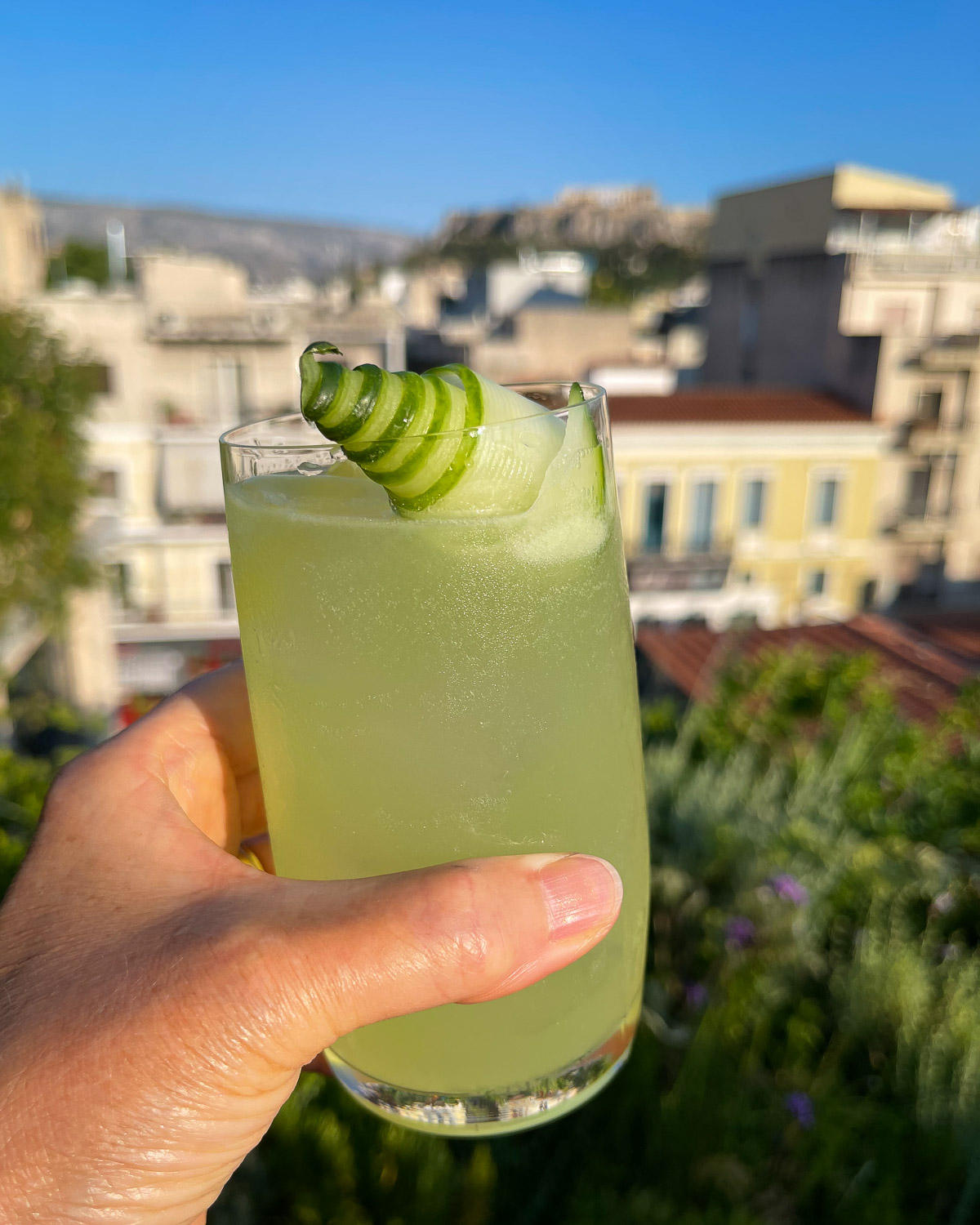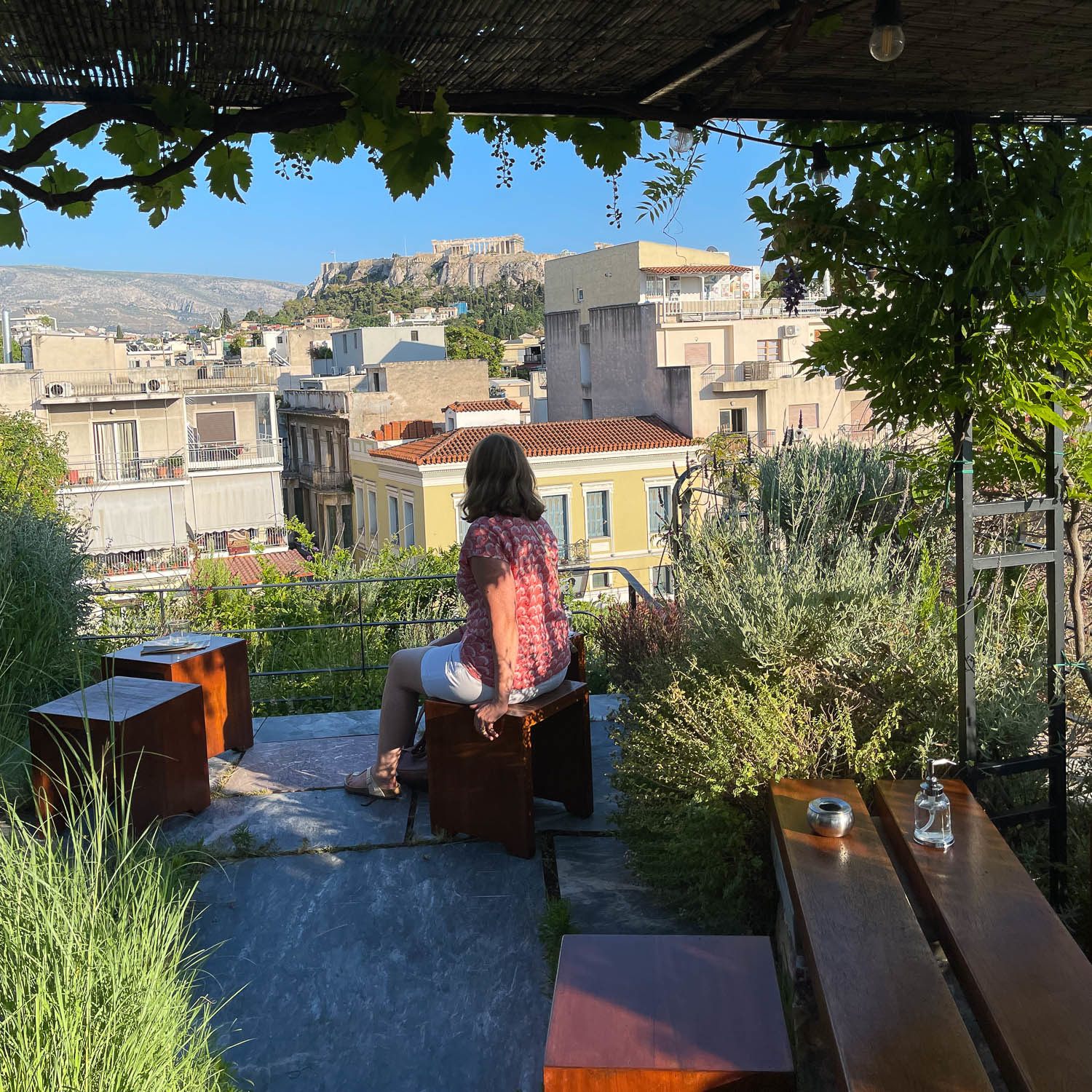 Restaurants in Kolonaki Athens
Kolonaki is considered one of the most upscale neighbourhoods in Athens, the equivalent of Chelsea or Knightsbridge in London. The two major streets of Solonos and Skoufa are lined with residential apartment buildings, while the street level is full of coffee shops, restaurants and designer shops that cater for an affluent crowd. Kolonaki also has a large share of the top restaurants of Athens, where top chefs showcase their fine dining experiences.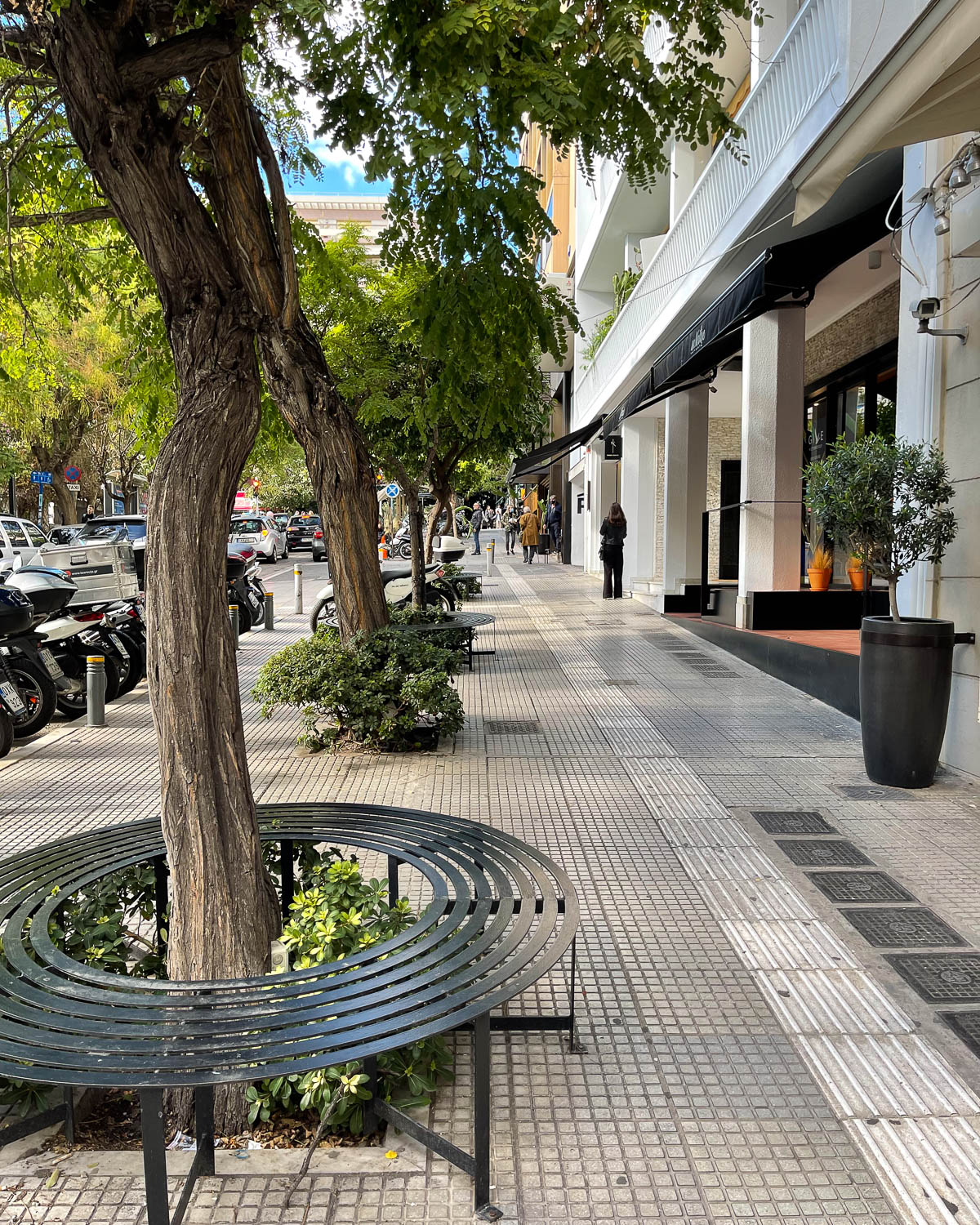 Nice n Easy (60 Omirou and Skoufa Str.)– a Mediterranean restaurant serving healthy gourmet dishes with lots of veggie and vegan choices as well as excellent cocktails. They also have two other locations in Greece and the all day menu is named after old time stars of the stage and screen, such as Audrey Hepburn, Frank Sinatra and Marilyn Monroe.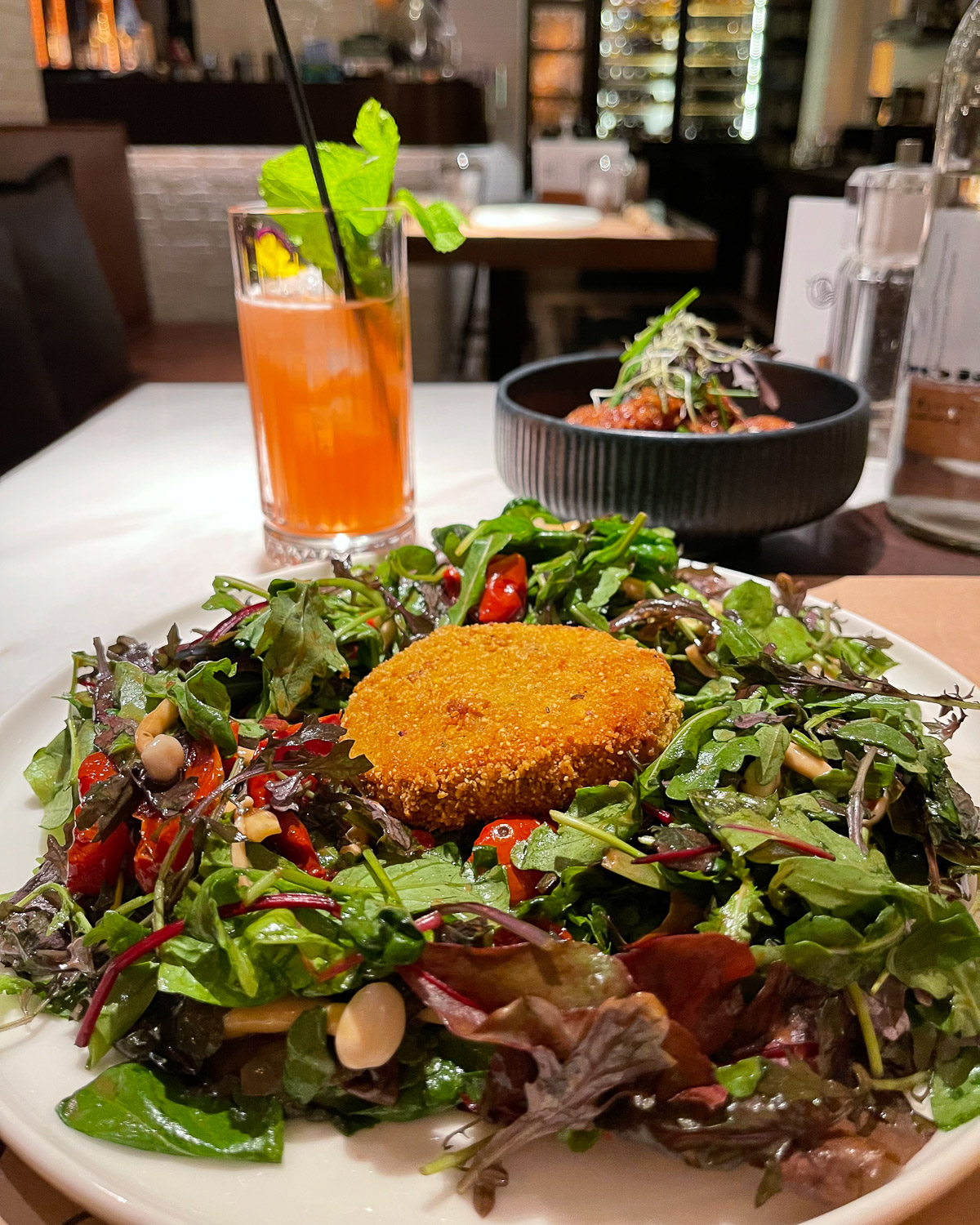 Apivita experience store (Solonos 6) – stop for a refreshing juice or smoothie, while shopping for gorgeous toiletries. This four story neo-classical building is a showcase for Apivita's face and body care range based on plant and bee products, with a juice bar on the first floor mezzanine, a spa for relaxing treatments and a lecture hall.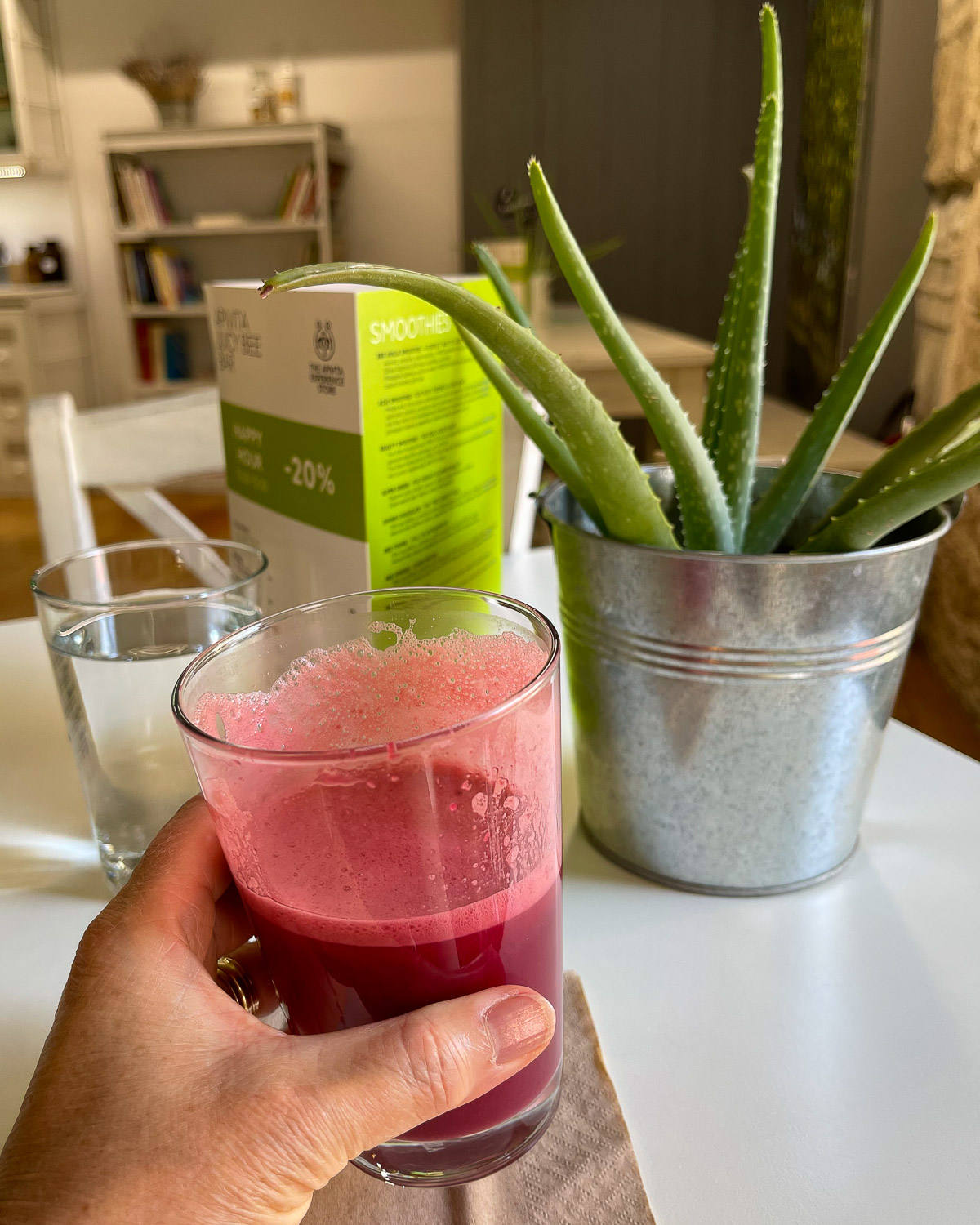 It (Skoufa 29)– although I didn't have time to eat there, I liked the look of this all day cafe where it's all about fresh and seasonal dishes with a big choice of veggie and vegan options. It looked like a great place for brunch, coffee or cocktails, with an outside terrace on Skoufa Street.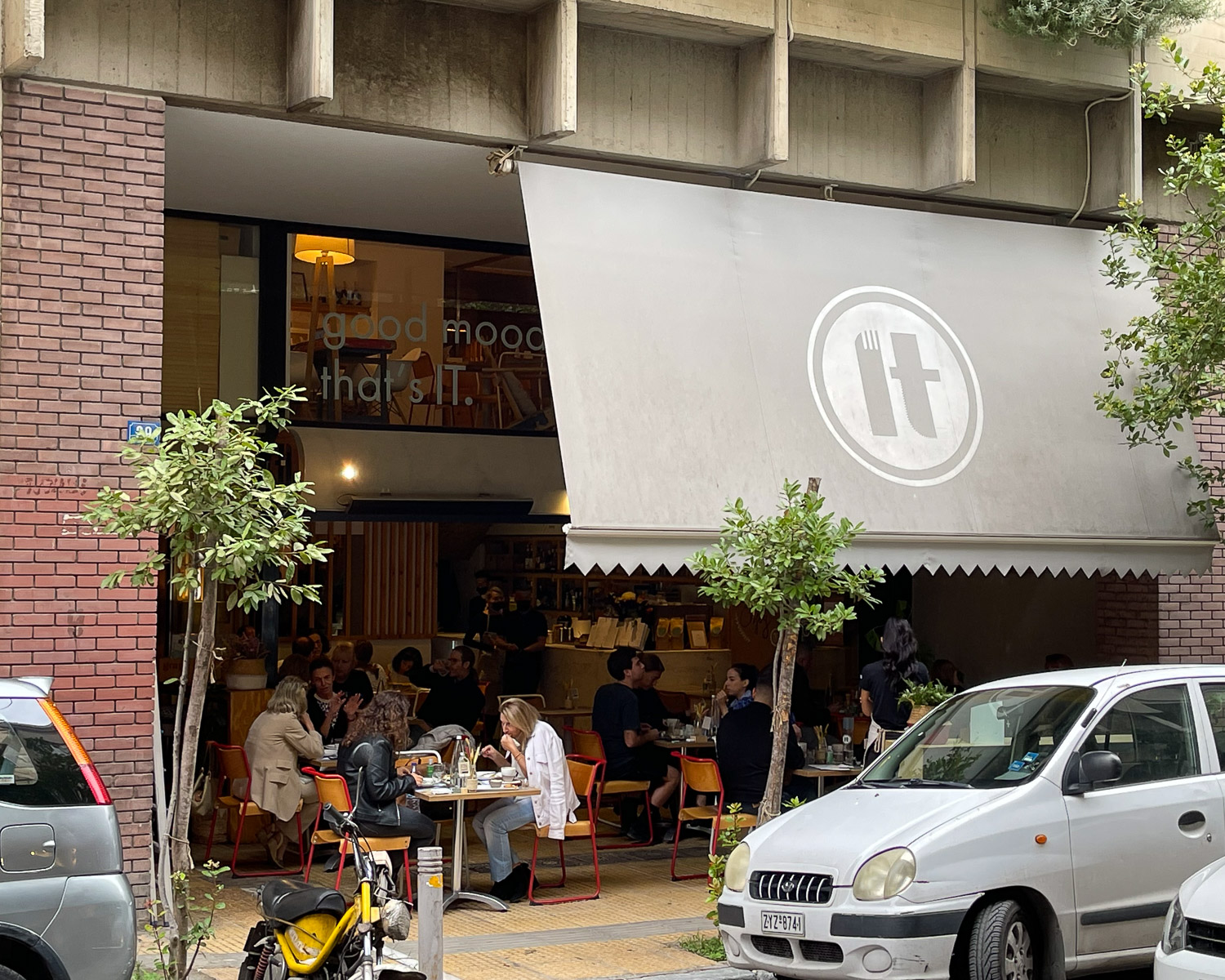 Prasini Tenta (Ploutarchou 66)– an outdoor coffee bar and restaurant on the slopes of Mt Lycabettus with views over Athens. I passed by on my walk and thought it had a stylish and relaxed atmosphere. It's a good place to stop for a break while walking on Mt Lycabettus on the edge of Kolonaki. On the crest of the hill, where the cable car stops is a restaurant Orizentos which is popular in the evening to dine with a view over Athens and the Acropolis.
Benaki Museum (Kounpari 1) – If you are visiting the Benaki Museum, which is dedicated to Greek arts and culture, be sure to have a coffee or light lunch in their rooftop restaurant. In good weather, the outside terrace is a pleasant place to sit with a view over the treetops of the National Gardens.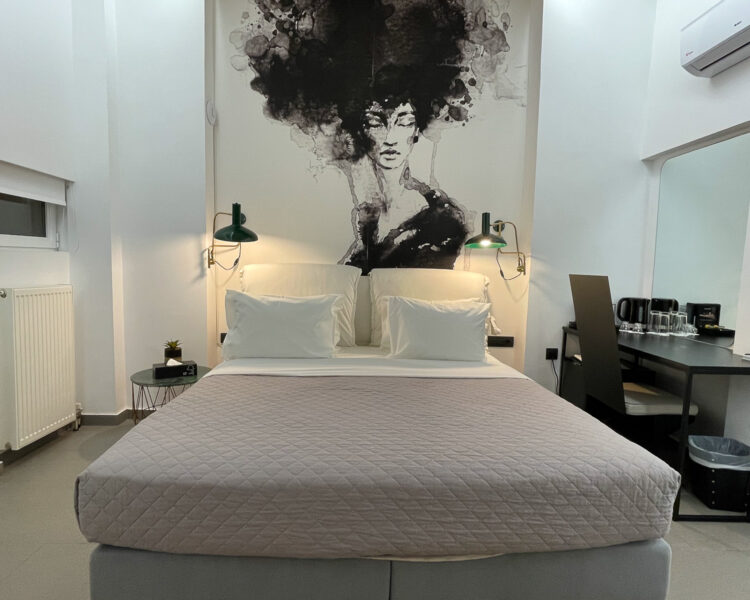 Stay at Sir Athens in Kolonaki – stylish suites in the upscale neighbourhood of Athens – read my review
Restaurants in Koukaki
We stayed in an apartment in Koukaki, a neighbourhood that's south of the Acropolis and Filopappou Hill and has a very local feel, without many tourist sites. The arty vibe and affordable rents, make this a neighbourhood that's attracting new restaurant openings and creative young chefs.
There are two pedestrianised squares along Drakou and Georgiou Olimpiou, lined with bars, coffee shops and restaurants. Koukaki has a youthful feel and is a good place to meet friends at the Syggrou Fix Metro station if you want to go bar and restaurant hopping within a small area of Athens.
Skoumbri (Drakou 16)- the white painted tables and rope decoration of this seafood restaurant give it a Greek Island feel. We dined there one evening and enjoyed the fresh fish and traditional seafood dishes on the menu. The same family owns Kalamaki Bar across the street, which offers a modern take on Greek traditional taverna dishes.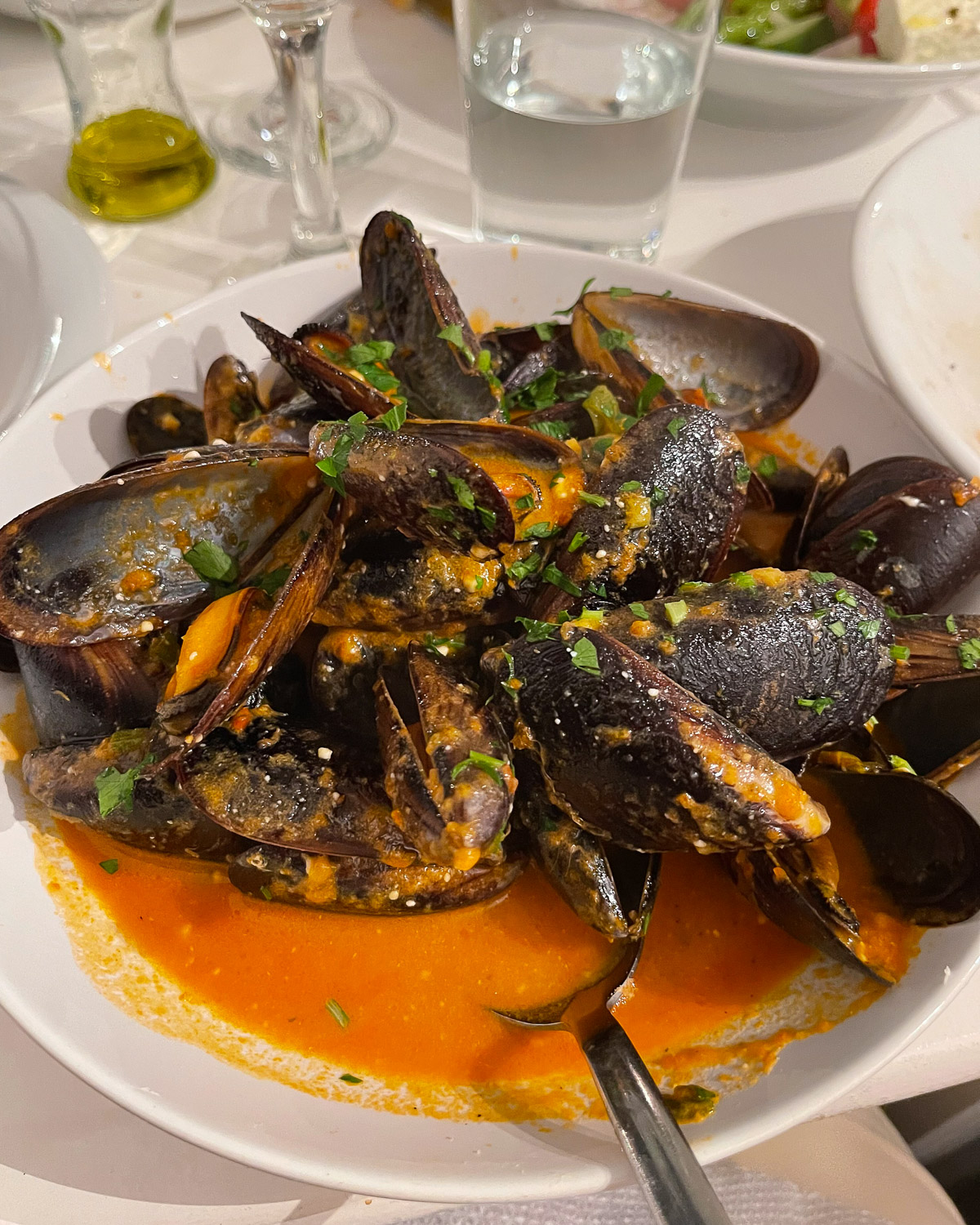 Restaurants in Ampelokipi
The neighbourhood of Ampelokipi is probably not one that you are likely to visit as a tourist, as it's a mainly residential area full of apartment buildings, medical clinics and a couple of large hospitals. However if you happen to be in the area you might like to try out one place we discovered;
48 Urban Garden (Armatolon & Klefton 48)- we'd never have found this quirky restaurant had it not been recommended to us, as it doesn't have a frontage to the street. It's in the ground floor courtyard of the Ileana Tounta Contemporary Art Centre, which has been landscaped to make an indoor / outdoor herb and vegetable garden. The bar and kitchen is in a silver airstream caravan and the menu is inspired by street food dishes from around the world, including Mexico, Asia and the Caribbean.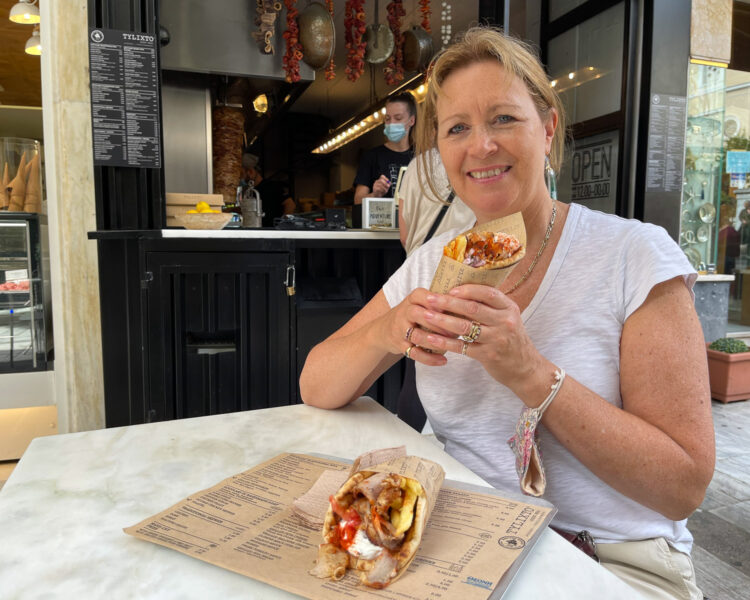 Looking for a food tour in Athens? We tried and can recommend this one with Athenian Tours
Restaurants near Omonia Square
Omonia Square was known in the past as one of the most classy areas of Athens, although unfortunately its reputation declined in recent years as it became a base for refugees in Athens. Some of the underlying issues have been addressed but it's something to be aware of if you are walking around the neighbourhood.
Stani (M. Kotopouli 10 ) – This family run dairy cafe close to Omonia Square is the place to try Greek yoghurt and dairy products. You'll see the creamy Greek yoghurt tubs piled in the chiller cabinet, with jars of honey were stacked on the shelves of cream painted kitchen cabinets. Try traditional Greek sweets and cakes, like loukoumades drizzled in honey, or the Galaktobureko custard tart enclosed in syrupy filo pasty.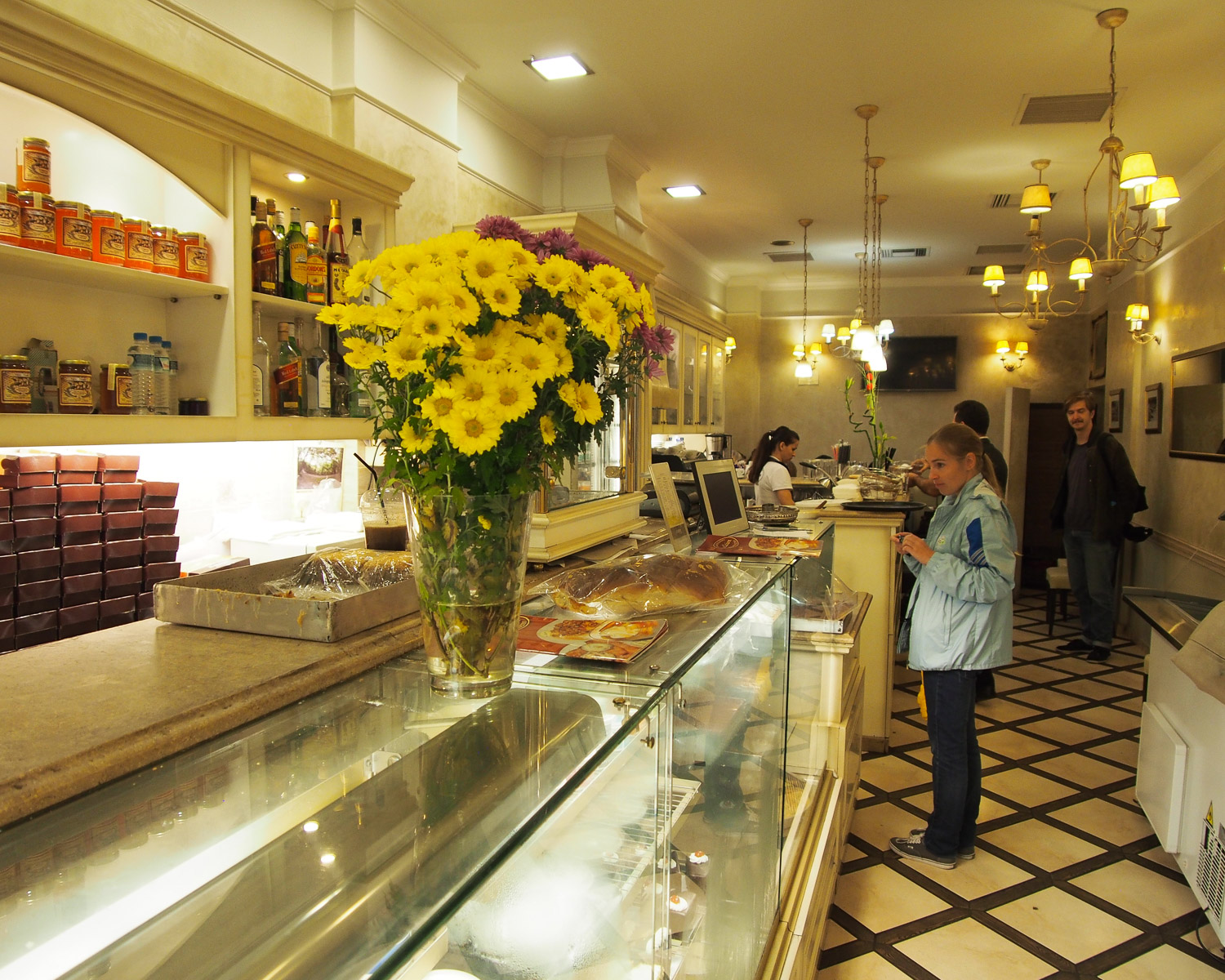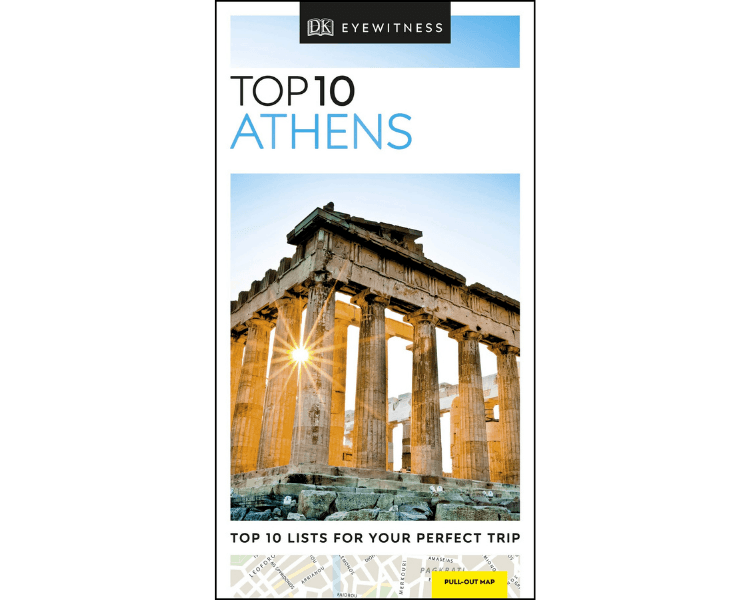 Pin it
A few of the places mentioned in this article were visited on a complimentary food tour hosted* by Athenian Tours but most of the restaurants are places I visited and paid for myself. 
* More info on my policies page