After two years of being shut in, lots of people are anxious to get out there and dive into extreme activities. Anything from acro-paragliding to ziplining, an exhilarating trip is what they seek. Such thrill-seekers love Ecuador – and who can blame them? With its active volcanoes, dense jungles, and the famed Galapagos Islands, you're never short of breathtaking activities here.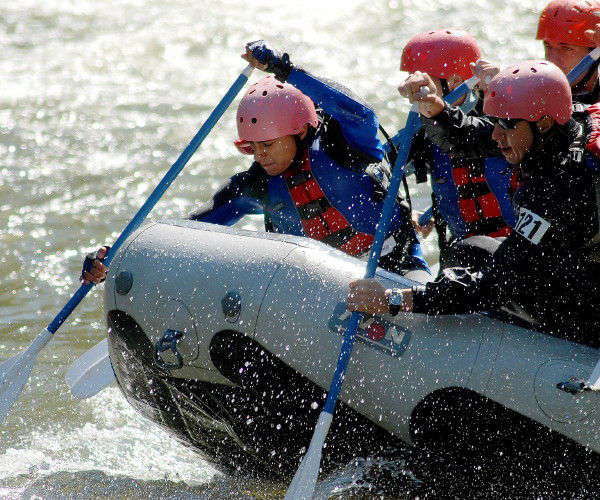 When travelers consider visiting Ecuador, they'll likely think of spotting wildlife in the Galapagos Islands. Few visitors realize, though, that each of this small country's four distinct geographic regions offers extreme sports for avid adventure travelers.
What we have selected here are what we think — based on our direct experience here in Ecuador — are the best extreme sports and where to experience them in this compact yet amazing South American country.
NOTE: If you are interested in such adventures, one of the best options is to first head just two hours south of Quito to the small town of Baños, which you can use as your base. In this sports adventure center, you'll find a whole variety of opportunities, everything from whitewater rafting and bungee jumping, to canyoning and mountain biking.
1. Bungee jumping (Baños)
Inspired by ritualistic land divers of the South Pacific islands, the modern sport of diving off a ledge while attached to a safety cord came to Ecuador years ago, where it is also known as puenting (translated as "bridge jumping"). Today it's one of the most popular extreme sports activities in Baños.
This one is not for the faint of heart, as it takes a lot of guts to tie a rope to one's body, jump into the void, and descend through the air! Imagine yourself taking a leap of faith before freefalling for almost 80 meters straight down over the raging rapids of the Pastaza River … what a thrill!
As the materials used by experienced specialists for jumping comply with all international regulations, bungee jumping is actually considered a low-risk activity. Still, we recommend that you first undergo a medical check to ensure you'll have no problem taking the plunge.
2. Canyoning (Baños)
Canyoning is a sport that takes the art of rock climbing and places it smack dab in the middle of a waterfall. Also known as rappelling or abseiling, canyoning is a mountaineering sport where you use ropes to lower yourself down steep rock faces covered by rushing water. You'll negotiate your way down steep canyons by rappelling and jumping off waterfalls and cliffs, cascading down natural chutes, and final swimming in crystal clear pools. In fact, 80% of your time is spent in the water.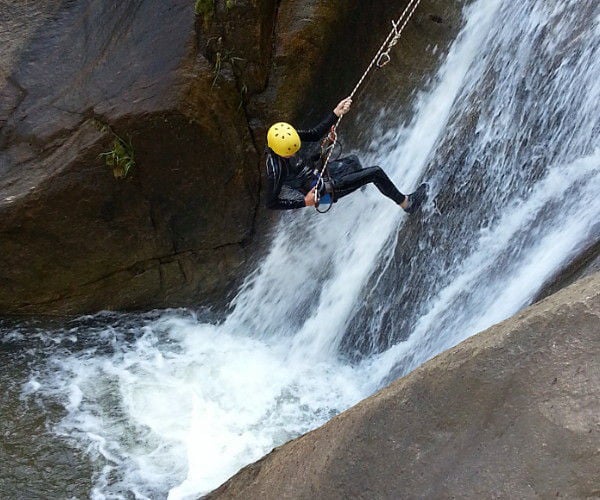 There are several levels of canyoning, so if you are doing one of the harder levels, make sure you are really familiar with the rope system and movements you need to do. Although canyoning can be done alone, for reasons of safety it's best practiced in groups and with a guide, with each practitioner having a minimal climbing experience and the right equipment.
Like several other extreme sports, the area around Baños is ideal for this activity since there's an entire trail of amazing waterfall/canyoning sites! While having an adrenaline-packed day, this is also a great way to take in some of the natural beauty in the area.
3. White water rafting & kayaking (Baños)
Boasting the world's highest concentrations of rivers per square mile, rafters and kayakers alike consider Ecuador a "whitewater heaven" – and with good reason. Ecuador possesses scores of rivers thanks to its abundant rainfall and the massive Andean mountain range that slices through the middle of the country from north to south.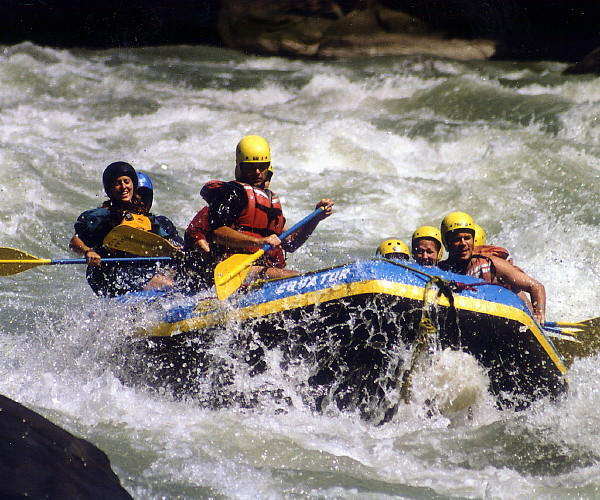 From those snow-capped mountains, water flows either down to the west coast or deep into the eastern Amazon jungle, winding its way through the spectacular gorges, canyons, valleys, and jungles below. Along this route are left miles of breathtaking world-class whitewater. All of this is why National Geographic magazine chose Ecuador as one of the world's top 10 whitewater locations.
Whitewater rafting is one of the most popular extreme sports in Baños, as the surrounding rivers are perfect for it, especially in the rainy season.
Likewise, expert-level Class V kayaking can be experienced in the Quijos Valley, which is easily accessed from the nearby jungle town of Tena.
For both whitewater rafting and kayaking, you can easily book a tour with an experienced tour operator that provides transport, accommodations, and equipment, as well as highly qualified guides who will give you a thorough security briefing. Remember, rafting is great fun but if the river suddenly grows, it can become problematic too.
4. Columpio (Baños)
Arguably the most famous treehouse in the world, the Casa del Arbol (which translates to "The Treehouse" in English) is home to the "Swing at the End of the World," a simple playground ride perched on the edge of a mountain overlooking the town of Baños.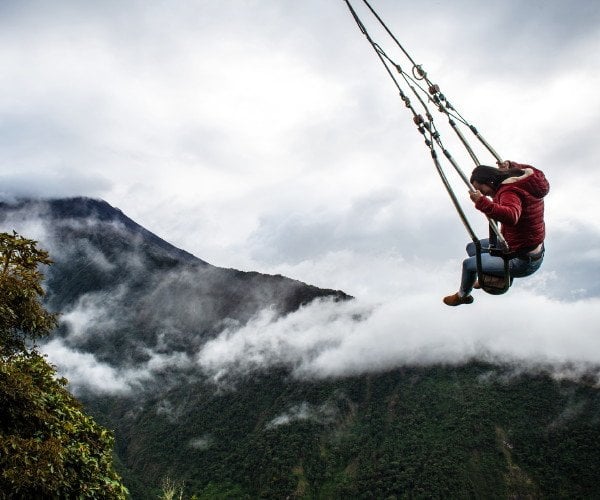 The Casa del Arbol itself was also originally built as a seismic monitoring watchtower for the nearby Tungurahua Volcano, which remains active. Some years after it was built, the swing was hung from its branches by the observation tower's guard, who wanted to encourage his grandchildren to visit him high on the hill that overlooks the beautiful Ecuadorian Valley.
Today, the swing provides a thrilling experience for not only children, but adult travelers, families, and strangers passing through. The swing itself has a backrest and a seatbelt that clips you in. The ropes are highest-grade climbing ropes, which are no longer attached to the branches but rather a strong metal pole in the tree.
At over a mile and a half above sea level, a swing ride here will fill you with the same rush of emotions that you felt when you were five.
5. Mountain biking in Ecuador (Baños, Cotopaxi, and elsewhere across the country)
Cycling is a perfect way to discover Ecuador; it's no less challenging than hiking but equally rewarding. Reach dizzying heights impossible to get to in a vehicle and reward yourself at the end of the day with a thermal bath or perhaps a glass of ruby-red Malbec as the sun sets. Whizz through the streets of bike-friendly Quito, meander over the cobblestone streets of the colonial town of Cuenca, or race down the steep slopes of Ecuador's volcanoes. Cycling in Ecuador is quite the ride!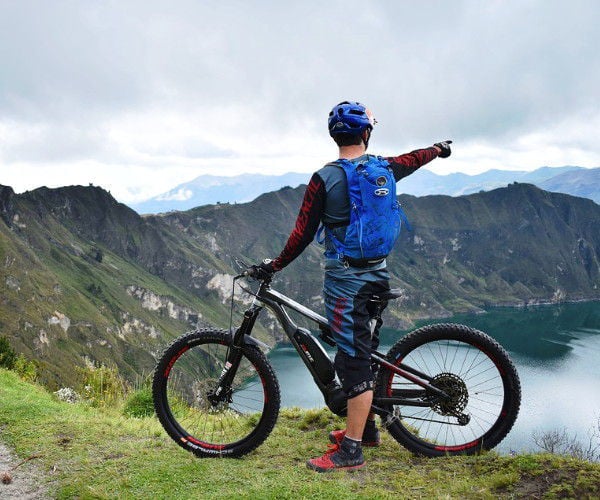 While there are many mountain biking trails throughout Ecuador, one of the most popular is in Baños. Dubbed the "Waterfall Route,' it's an excellent ride for seeing the waterfalls. You can rent a bike in Baños for this route that is mostly downhill, with some slight uphill sections.
Alternatively, why not try biking down one of the highest active volcanoes on Earth? On a day trip, you'll head out early in the morning from the capital city of Quito and be driven to the Cotopaxi National Park. This drive continues up to a high altitude on the Cotopaxi volcano, where you can relish the pure thrill of volcano biking all the way down.
Thanks to such captivating scenery and varied terrain, Ecuador is an excellent place to explore by bike. With numerous routes weaving across the country – your options are limitless.
6. Wilderness hiking (Cotopaxi)
Ecuador is the perfect place to embrace the outdoors by putting on a pair of walking boots and going for a hike. Whether you are surrounded by truly stunning scenery, visiting one of the many national parks that form a patchwork quilt all across the country, or finding yourself high up in the cloud forests along the slopes of the Andes, hiking in Ecuador is an experience like no other.
Whether hiking through the Amazon, the Andean highlands, the Galapagos Islands, or even a major city, you'll find the views spectacular and enchanting wildlife. With so many alternative trails, there will be something to suit you no matter what your fitness level.
To catch a glimpse of the volcanic activity that Ecuador is so well known for, head to Cotopaxi National Park in Ecuador, where remote trails take you across vast valleys and past picturesque lakes, with snow-covered peaks as your constant backdrop.
There really is no better way to feel a close connection with Ecuador's stunning scenery.
7. Spelunking (Galapagos and the Ecuadorian Amazon)
Spelunking (also known as caving) is the sport of exploring the insides of the earth as you venture through narrow tunnels to bottomless shafts and grandiose underground chambers. This increasingly popular sport is not for the timid as it often asks you to walk, climb or crawl blindly into the darkness with only a headlamp and with spiders and bats for company. In whatever case, though, the challenges come with their rewards.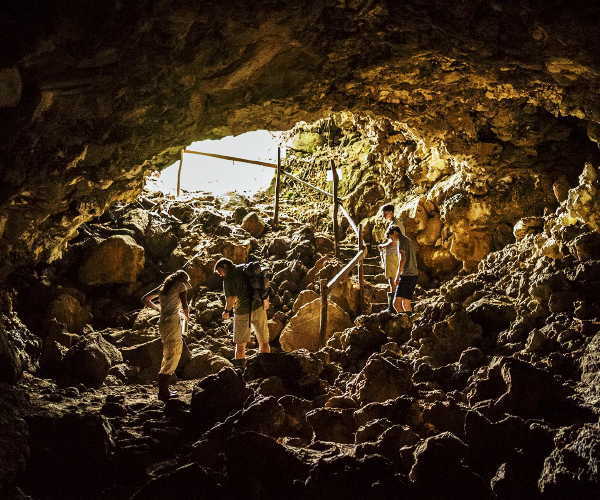 In Ecuador, there are only a few locations for spelunking, yet each is well worth a visit. Most of them are in the county's Amazon lowlands, where you can discover sites such as the Jumandi Caves, whose twists and turns will take you through small chambers that are almost filled with stalactites.
Then too, in the eastern foothills of the Ecuadorian Andes are the Tayos (Oil Bird) Caves). With a surveyed length of over three miles, including several parallel systems, these caverns form a large and complicated underground labyrinth possessing enormous galleries within which could fit in an entire cathedral.
Not to be outdone, in the Galapagos Islands offer several miles-long lava tubes that can be explored on Santa Cruz Island. These are of volcanic origin and offer a great geological insight into the islands' natural history.
---
IMPORTANT NOTICE:
If you are reading this article anywhere other than on A Luxury Travel Blog, then the chances are that this content has been stolen without permission.
Please make a note of the web address above and contact A Luxury Travel Blog to advise them of this issue.
Thank you for your help in combatting content theft.
---
8. Hot air ballooning (Otavalo)
Get a completely different perspective on the world – a bird's eye view, in fact! Hot air ballooning is an exhilarating adventure in which you float with the breeze several hundred yards in the air.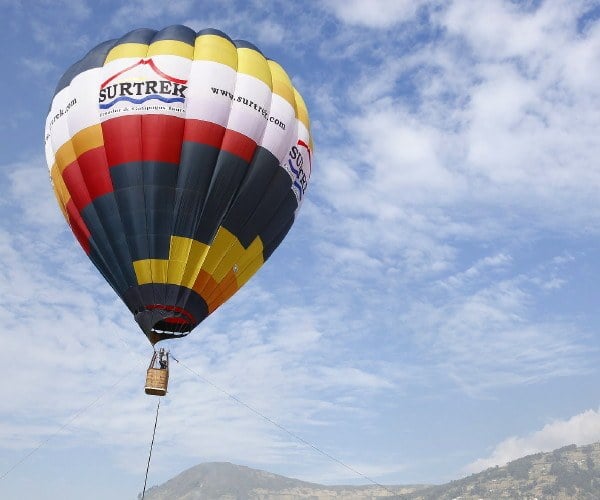 In Ecuador, you can experience the wonder of hot air balloon rides in top locations such as the indigenous highland town of Otavalo, where you'll spend a 35-minute adventure at a 1,000 feet (300m) above the ground! Gaze at the majestic Imbabura volcano and Lake San Pablo from up above. Feel free, safe, and connected with nature, whether you're traveling alone, as a couple, with friends, or as a family.
Suspended high above the patchwork quilt of Andean farmlands, you as a guest will enjoy a 360° view of the Andean landscape below in the safety of a tethered hot-air balloon basket. (During a tethered ride, the hot air balloon is held to the ground by anchor ropes, an option that provides you with a more controlled experience without sacrificing the balloon flying feeling or any of the amazing views.)
Professional, licensed, and very experienced ballooning staff will make every effort to ensure you´re not only safe and comfortable but, most of all, that you have a wonderful ride.
The hot-air balloon option provides guests with an entirely new perspective of the "middle of the world!"
9. Mountain and volcano climbing (Chimborazo, Cayambe, Mount Antisana)
Reach for new heights as you climb snow-capped peaks, smoldering volcanoes, and everything in between during your time in Ecuador.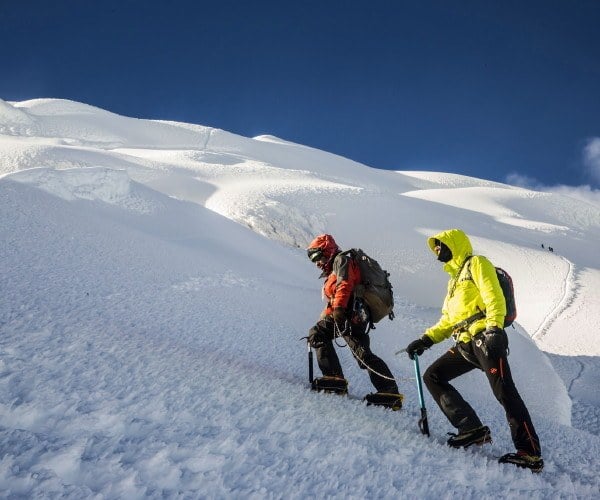 The easy access to Ecuador's mountains makes this country an attractive destination for everyone from beginning climbers to experienced mountaineers. This means you don't have to be the next Edmund Hillary to explore the dramatic mountain ranges of Ecuador. With countless trails, varying degrees of difficulty, and dozens of volcanoes — a surprising number of which are still active — choosing to do some mountain climbing during your trip to Ecuador will afford you panoramic vistas that you won't find anywhere else.
Consider scaling the Chimborazo, the highest mountain in the country and whose summit — due to its location along the equatorial bulge — is the Earth's closest point to the sun. Or, ascend Cayambe, the only volcano in the world whose summit is crossed by the equator. Want something even more technically demanding? …consider Mount Antisana, less frequented and thus retaining its pristine beauty.
Cotopaxi, situated along Ecuador's "Volcano Avenue," is probably about as quintessential as you can get when it comes to volcanoes. Soaring up into the sky, nearly 6000m high, this active volcano is one of Ecuador's most well-known. While it is possible to reach the summit with a guide, it is also worth taking the time to visit the national park that surrounds it.
Whichever summit you choose, Ecuador possesses a range of mountaineering challenges. With this in mind, we can assure you that climbing in Ecuador will certainly satisfy the intrepid explorer within you.
10. Parasailing (Monanita, Atacames, Canoa)
Combining the fun of water sports with the exhilaration of flying, parasailing is an activity that creates the ultimate in extreme sports adventure.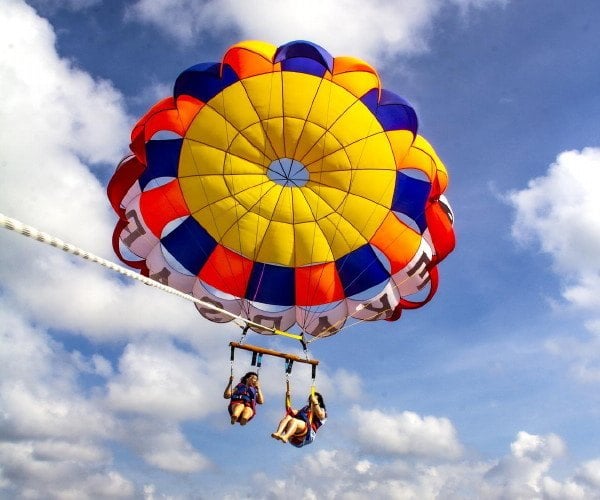 To break it down, parasailing is a recreational kiting activity where you're suspended in the air by a parachute-style canopy attached to a speed boat. As the boat pulls you along, you'll ascend to as high as 500 feet. Soaring like a seagull, they'll be nothing between you and the Pacific except the rush of ocean air!
As a person parasailing, you won't have to do anything to control the parachute. You can just sit back, relax and enjoy the ride while you're comfortably strapped into your harness, dangling your feet and marveling at the breathtaking view.
Down below you, you might even be lucky enough to spot dolphins, fish, sea turtles, and even local sea lions, all enjoying the calm waters of Ecuador's dazzling Pacific shores.
Along Ecuador's Pacific coast, you find parasailing operations in most of the major beach towns such as Monanita, Atacames, and Canoa. An experienced Ecuadorian operator tour operator can direct you to the best companies. These are ones staffed by qualified parasail professionals who are strictly focused on safety procedures.
Parasailing is a great memory maker for family and friends alike, so be sure to bring them with you as there are options for single, double, and triple passenger excursions.
With its high-flying thrills, panoramic views, and pure excitement, parasailing is an exciting sport that will get your blood pumping like few others.
11. Ziplining (Mindo)
Exhilarating and beautiful, a forest-canopy zipline experience is about as close as you can get to flying. Zipping between the trees at the height of perched birds, this is an activity you won't soon forget! This has now become a classic adventure activity in Ecuador that thrill-seekers should consider adding to their itinerary.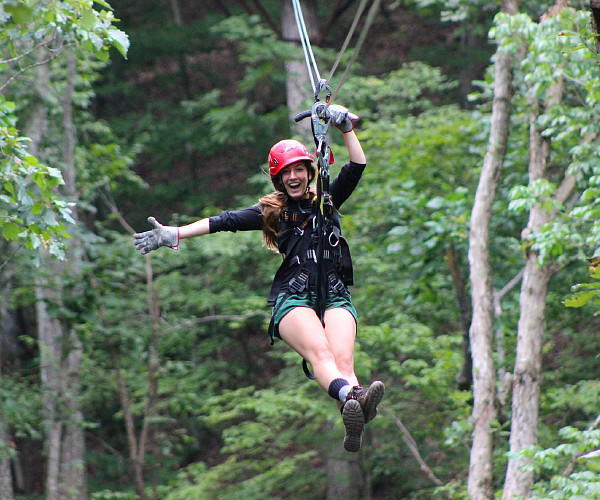 Some of the best places to go ziplining in Ecuador are within rainforests, including the Mindo Cloud Forest. You can easily access this forest from Quito in a couple of hours; so, getting your thrills while being based in the capital city is quite easy.
In the small sports town of Mindo, the longest-running and original zipline consists of a series of ten cables that range from 20m to 400m in length. These allow you to fly over the lush forests from one point to another.
For an adventurous yet safe experience, an experienced tour operator will direct you to a well-vetted operation run by highly skilled technicians and which use quality equipment that is inspected daily. All safety equipment is provided, such as a harness, helmet, gloves, and pulleys. Before you start, professional guides give a briefing on the safety methods used during the activity.
12. Horseback riding (The Sierra and the Galapagos)
Whether you choose a gentle trek or an exhilarating gallop through the open plains, horse riding in Ecuador is an excellent way to discover the harder-to-reach places that await you in this exciting country.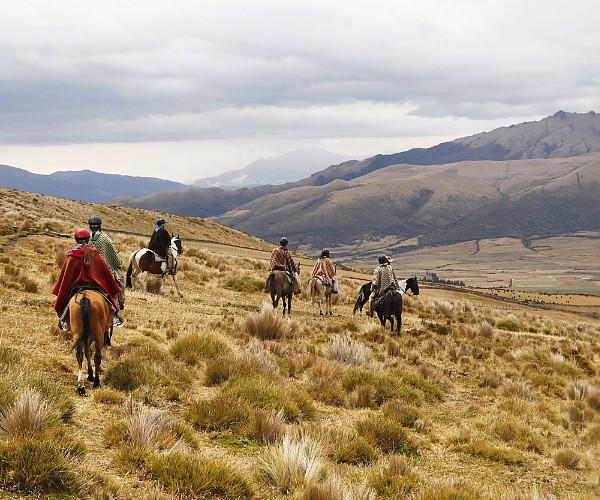 Spend a day on the treeless slopes of long-extinct volcanos or perhaps head to the coast and canter along the country's Pacific shoreline. Here in Ecuador, where horsemanship is still very much a part of everyday life, you'll come to wonder if could there be a more natural way to travel.
One of the country's countless rural haciendas is a good place to start if you are looking for a day trip incorporating some riding. Even if you are staying in the cosmopolitan capital, many ranches within easy reach will welcome you for the day. You'll learn about what it really means to be a chagra (an Ecuadorian cowhand), and they'll even provide you with a delicious barbecue to round things off.
Or, for something completely different, consider exploring the Galapagos Islands on horseback. Guided tours take you to all the major ecological sites, leaving you to enjoy the cool breeze on your face and the breathtaking scenery as you go.
Horse riding activities can be found virtually anywhere in Ecuador. It's another fantastic way to feel a close connection with nature and go at your pace, whether you're a beginner rider or an expert equestrian.
13. Snorkeling (Galapagos Islands and the mainland coast)
The Galapagos Islands are a world-class destination for underwater wildlife lovers.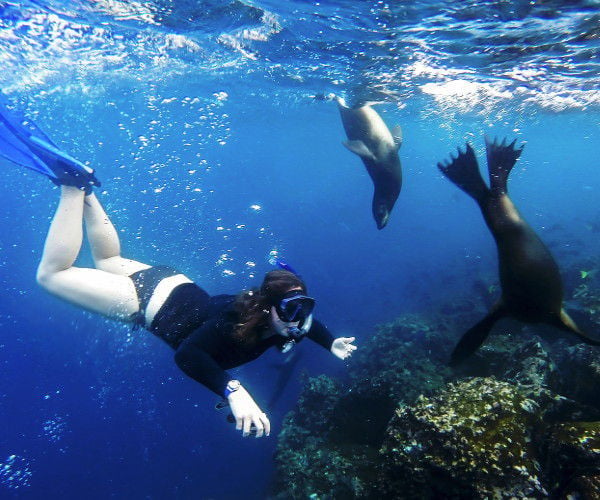 The good news is that you don't even need to be a diver to see the best of the action! Snorkeling is one of the most accessible water sports when traveling anywhere in the world. The equipment is user-friendly for anyone with even basic swimming skills. Galapagos snorkeling gets you right into the thick of the action, up close to everything. And there's a lot to see!
Certainly, the most biodiverse spot in Ecuador is the Galapagos Islands. This marine reserve covers over 130,000 square kilometers of pure life and magic. Though the archipelago lacks the incredible underwater coral landscapes of the Great Barrier Reef and some other world-famous snorkeling locations, it more than makes up for this with its large variety of marine life and good visibility.
Playful Galapagos sealions, chilled out turtles, tame sharks, and even penguins – you name it, the Galapagos has it all, a colorful life-filled ecosystem of easy access. So get your snorkel, mask, and fins ready and jump right in!
Galapagos sites that can be visited from inhabited islands as part of a guided day tour include Kicker Rock (San Cristobal Island), Los Tuneles (on Isabela Island), Pinnacle Rock (Bartholome Island), and North Seymour Island. Snorkel sites accessible only on a liveaboard cruise include Punta Espinosa (Fernandina Island), Devil's Crown (Floreana Island), Chinese Hat (Santiago Island), and Prince Philip Steps (Genovesa Island).
Aside from the Galapagos archipelago, and not to be overlooked, is the Ecuadorian mainland. It's jam-packed with stunningly beautiful beaches with eye-catching varieties of sea life. If traveling through the mesmerizing natural beauty of the Pacific coast, there are two major regions where you should definitely stop and take some time to explore: Manabí and Santa Elena provinces. These areas include coral reefs and offshore platforms, and include the large area of the Machalilla National Park, which is one of the last refuges of marine life in Ecuador.
14. Diving (the Galapagos Islands and the mainland coast)
There are diving vacations …and there are DIVING VACATIONS! One of the most special underwater adventures can be found in Ecuador's legendary Galapagos Islands. Toted as one of the top 10 diving spots in the world, the Galapagos has earned a title as the "Mecca for divers."
Where else can you discover massive whale sharks patrolling the deep blue while schools of manta rays block out the sun? In this archipelago, each dive promises extraordinary sightings, making it nothing short of a "must-do once-in-a-lifetime experience" – whether you're a beginning diver seeking a swim alongside playful sea lions or an advanced frogman comfortable with being surrounded by a squadron of benign hammerhead shark.
While the Galapagos Islands' most famous dive sites are only accessible by liveaboard (sites like Darwin's Arch, Wolf Island, Cape Marshall, Punta Vicente Roca, Cape Douglas, Roca Redonda, Cousin's Rock, Tagus Cove, and Punta Albemarle), it's also possible to explore the Galapagos from land.
In addition, the coastal region of mainland Ecuador offers numerous places to dive along its beautiful beaches – sites such as Isla de La Plata (accessible from the town of Puerto López), and El Pelado and Bajo Copé, both accessible from Ayangue).
15. Surfing (the Galapagos Islands and Montañita)
Being a highly diverse country with highland mountains, mysterious jungles, and dazzling coastline, there's something for every type of traveler in Ecuador. It's no different when it comes to the surfing scene. This compact South American country is a great place to catch waves, whether you're a complete beginner or an experienced pro. Here, there's surfing of any type — whether wave surfing, windsurfing, kite surfing, wakeboarding, or skimboarding. And with a total of more than 2,000km of coastline, you can bet there's a beach that'll suit your needs and then some!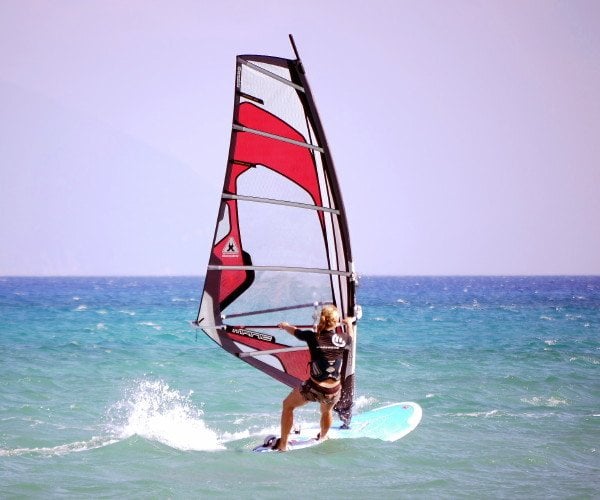 Many of these beaches can be found in the country's Galapagos Islands. Possessing even more than its amazing wildlife, these islands are also home to some of the best surfing beaches in the country!
The archipelago itself is an area of volcanic islands distributed around the equator in the Pacific Ocean, some 560 miles from the Ecuadorian mainland. Among the islands, San Cristobal Island is a favorite spot in the Galapagos for surfing, where the "surf season" extends from December until May. On San Cristobal, an awesome spot for surfing is Puerto Chino Beach. Though not the best site for beginners, it's one of the best beaches for those with at least some experience.
In addition to the Galapagos, spots along Ecuador's mainland coast are other great places to surf in Ecuador. With warm water all year round, the mild weather makes these perfect places to catch waves off sandy beaches.
On the coast, you might want to head to the bohemian party-beach town of Montañita, considered the surfing capital of Ecuador. The waves are at their best between December and March, and there are lots of surf competitions to observe here too if you've had enough of doing the extreme sport solo. In Montañita, you can not only enjoy honing your surf skills by day, but hit the bars by night and party till dawn with fellow travelers and locals alike.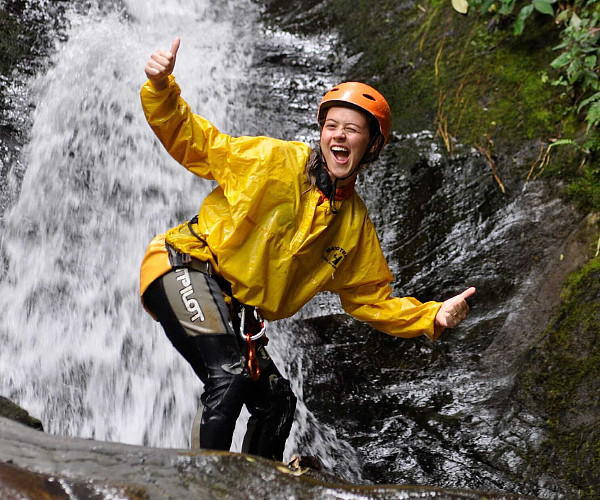 So if you're seeking thrills and absolutely love an adrenaline rush, then look no further than Ecuador and its Galapagos Islands. Here, you'll find some superb spots for all your favorite extreme sports.
Alfonso Tandazo is President and CEO at Surtrek Tour Operator. Surtrek Tour Operator is a well-established firm, specializing in custom-designed luxury tours in Ecuador, the Galapagos and throughout the rest of South America.
If you would like to be a guest blogger on A Luxury Travel Blog in order to raise your profile, please contact us.