Are you in the process of planning your cruise vacation? We've gathered 122 of our favorite and top cruise tips to help make your planning process smoother and your cruising experience even more fabulous.
Cruising is a fantastic way to see the world and enjoy some much-needed relaxation time. However, as with any type of trip, there are a few cruise tips and info you need to know before you set sail or when you're on the ship.
We love to cruise, but we were once newbies that booked our first cruise on Royal Caribbean (many moons ago) and would arrive at the cruise port to board the ship with little to no planning.
When we look back, we wish we had researched the most basic things like handing the porter your luggage at the port (and tipping) and how to book shore excursions. There are some destinations from that time that we'd love to revisit and do it over again. We definitely will.
In the past 10 years, we've learned a lot more about cruising and how to best prepare for a cruise vacation. We love to share them all with you.
Whether you're still in the early planning stages or getting ready to board your ship, we've got you covered. In this article, we will share 122 quick and helpful cruise tips that will help make your cruising experience smooth and unforgettable.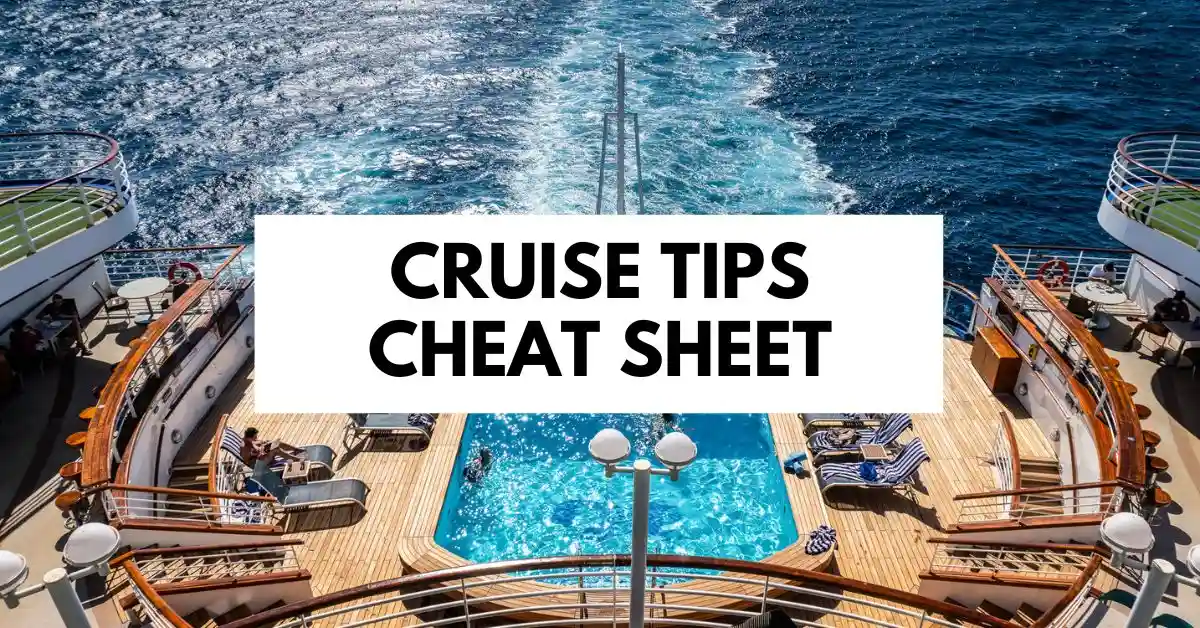 Disclosure: This post may contain affiliate links. If you decide to make a purchase from one of those links, we may get a commission at no extra cost to you. We appreciate your support.
Cruise Tips
Cruise Planning
1. Set a budget you can afford or plan to save for the cruise.
2. Consider how many days you'd like to cruise for. Seven days are the most popular. There are shorter cruises available as well as longer cruises. If you're first time cruiser, you may not want to book anything more than 7 days.
3. Start by looking at cruise itineraries for inspiration. The choices are limitless. Western or Southern Caribbean? Bermuda? Alaska or Iceland? Eastern or Western Mediterranean? Do you want to go to a cold or hot destination?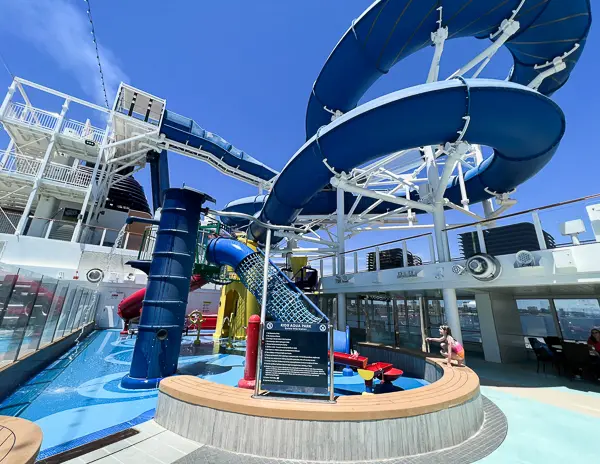 4. Research the cruise lines and cruise ships. Every cruise line is different and offers its own style of cruising. Narrow it down to what amenities are important to you. Are you traveling with a family? Are there enough cruise activities on the ship? Is it a new ship? When was the last refurbishment?
5. Narrow down the itineraries. Look at the length of time at each port. Are you okay with only spending a few hours at one of the ports? We like to look for ports that will be a minimum of 6 hours. 8+ hours or more is great!
6. Determine when you want to cruise. Cruise prices are lower at certain times of the year. If you're looking for a deal, aim to book your cruise during the shoulder or off-season.
7. Also, take into consideration the weather patterns at your potential cruise destinations. For example, hurricane season in the Caribbean runs from June to November. It doesn't mean you shouldn't, just be aware and make sure you have good cruise insurance.
8. Cruising with friends or family? Booking as a group has its perks. Not only will you save money, but you'll also have the added bonus of spending your vacation with people you know and love.
9. Don't forget to add in the cost of airfare, ground transportation to and from the cruise port, and pre-and post-cruise hotel stays to your budget.
Book a Cruise
10. Shop around. We like to go straight to the cruise line and retrieve a quote, first. Will they give you the best deal? It all depends, but if you book through them, you can contact them directly if any issues arise… that's if you don't have a great cruise travel agent.
11. Find a cruise travel agent. There are cruise travel agents out there that offer excellent customer service. Sometimes they offer additional perks that the cruise line may not be offering you, like onboard credits.
12. American Express Platinum cardholders, did you know that if you book a cruise with Amex Travel, you are entitled to shipboard credits and additional cruise perks? Read more about their Cruise Privileges Program.
13. Keep your eyes open for special promotions. Sometimes cruise lines run promotions that have deposits as low as $25 per person. This is great, especially if you're planning to take your time to pay off your cruise vacation.
14. Consider a guaranteed cabin when booking to get the best deal. This means you can't choose your cabin number, only the category, but you'll save lots of money. If the cabin is important to you, then we don't recommend this.
15. Consider booking an inside cabin for the cheapest rate on a cruise ship. This is a great way to save money if a balcony doesn't matter to you. Many cruisers that book inside cabins, see the cabin merely for sleeping only and spend most of their time enjoying the ship. There are so many outdoor spaces on a ship that it's just one big balcony.
16. Book a cruise 1-2 years in advance and pay it off slowly. You have up to 4 months (verify with the cruise line) prior to your cruise date to pay it off.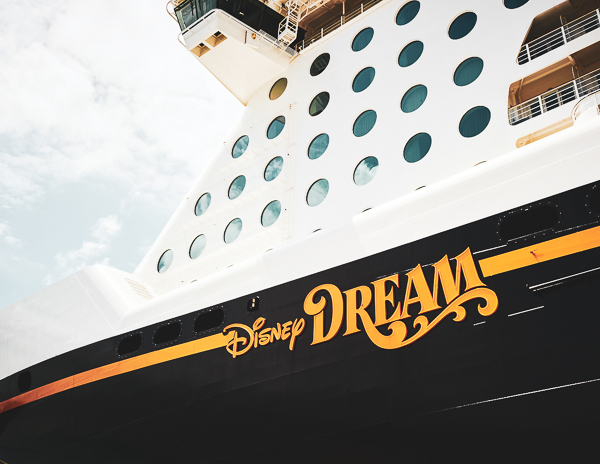 17. Looking to book a Disney cruise? According to Disney cruise experts, in order to snag the best rate you have to book on the day the new sailings are announced.
18. That said, the earlier you book any cruise, the more you'll save. The higher in demand for cruise sailing becomes, the higher the rate is.
19. You should keep an eye out for the rates for your cruise after booking. If there are any sudden drops or specials, you can rebook for the new rate and save money, prior to making the final payment.
20. Cruise line rewards programs. Consider sticking with one cruise line when booking cruises. If you frequently cruise with the same cruise line, you can earn points that can be used towards free cruises, upgrades, onboard credits, and other perks.
25 Reasons to Book a Cruise Vacation
Why you should go on a cruise? See our 25 reasons why a cruise vacation is one of the best vacations. Start your vacation planning and cruise planning today. Enjoy the benefits of cruising and explore the port destinations around the world.
Saving for a Cruise Vacation
21. Go to your preferred bank or from your computer at home to open up an online savings account with a high-interest rate. Set up an automatic weekly transfer from your checking to your travel savings account. Make it an amount you know you can afford and won't even notice. It adds up quickly.
22. Set up a piggy bank and save all your change. You'll be surprised how much money you can save up in a year. We once had almost $500 that we used as our spending money. Read some of our tips on how to save money to travel.
23. Apply for a credit card that accrues points or cashback rewards. We refer to The Points Guy and Upgraded Points for travel awards with credit cards.
If you're spending money out on dining, groceries, gas, and travel, you can be charging it to a credit card so you can make money back to invest in travel.  The KEY IS to always pay off your balance upon the due date so you don't pay interest, that's how you stay out of debt nightmares.
24. The Chase Sapphire Preferred is a great travel credit card to start with.
25. Cruise line credit cards. If you frequently cruise with a certain cruise line, it may be worth getting your credit card. You can rack up points.
26. Hitting the ATM for some cash? Withdraw an extra $20 and set it aside for your cruise. It's a little game we play. Always be aware of your budget.
27. Did the cashier just hand you a change of $1 and $5 bills? Save that, too. You're going to need them on your cruise.
28. Have a garage sale and sell items you no longer use.
29. Do some freelance work on the side to save up for your cruise.
Preparing for a Cruise
30. Purchase cruise insurance. It's one of our top cruise tips right now. It's so important to have cruise insurance to cover medical emergencies and Covid-related travel issues. You can even add or "cancel at anytime" insurance.
31. Book flights. Tip: track your desired dates on Google Flights for the best fare.
32. If you're arriving a day early, book a hotel.
33. Make sure your government ID or passport is ready and not about to expire.
34. You can start booking specialty dining reservations 90 days before the cruise date (120 days if you're staying in a suite)(cruise lines may vary). Add the date to your calendar so you can make reservations as soon as possible.
35. Start researching the port-of-calls of your cruise itinerary and booking shore excursions, whether with the cruise ship (90 days before the cruise) or on your own.
36. Book your Covid test or purchase at-home proctored covid tests.
37. Join a roll call. Check out Cruise Critic or search for Facebook groups for your specific sail date.
38. Download the cruise line app.
39. Take a selfie with your phone against a white or light plain background to have ready and upload for check-in.
40. Be prepared to check in for your cruise online as soon as 21 days before your cruise (verify with your cruise line).
41. Don't miss anything! Read the more in-depth article on how to prepare for a cruise.
Packing for a Cruise
42. Start packing your suitcase 1-2 weeks before your cruise. This way, you're not scrambling to pack everything last minute. If you are missing anything, you have time to purchase it.
43. Pack your swimwear or a change of clothes in your carry-on onto the cruise ship.
44. Purchase travel power strips without a surge protector for cruise ship outlets because electrical ports are sometimes limited.
45. Do not pack an iron or any of these items.
46. It's important to pack your medications in your carry-on bag.
47. Can you bring free drinks on board? You must check with your cruise line, but some allow you to bring up to 1-2 bottles of sealed wine on board, a corkage fee may apply. Some also allow water bottles and other non-alcoholic drinks onboard.
48. Read and print out our cruise packing list.
What NOT to Pack for a Cruise
We've covered all the cruise essentials you should pack for your cruise, but do you know what not to bring on a cruise? From prohibited items to things, you can leave at home. on cruise ships. Keep them off of your cruise packing list.
Embarkation Day
49. Did you take a covid test? Do you have your negative test results printed or easily accessible from your phone?
50. Make sure to have all your cruise and travel documents printed and ready.
51. Arrive at the port early. Your check-in time is listed on your cruise documents.
52. Take transportation to the cruise port.
53. Hand your luggage to a porter at the port. Don't forget to tip.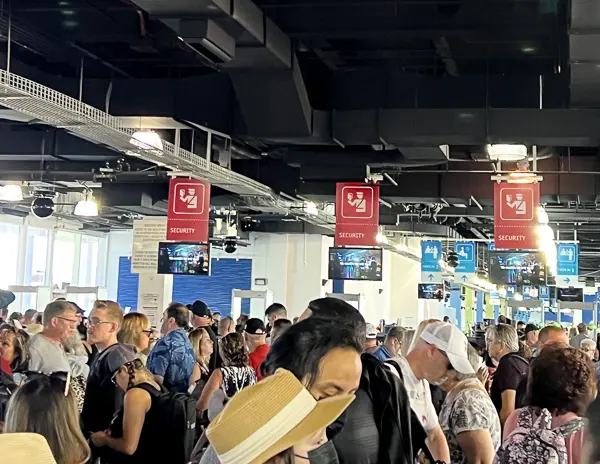 54. Go through security. Sometimes patience is key.
55. If you checked in online before arriving at the cruise port or the cruise line, check-in should be easy. They may verify your passport or covid test and issue you a card, which is your stateroom key.
56. Cruise lines usually start boarding passengers around 11:30 am or 12 pm. Your cruise documents will list your boarding time.
57. Cruise lines will start to announce when it's time to board by group or category numbers.
58. If you want to take advantage of an early embarkation photo opportunity, ensure you're one of the first passengers to board the ship.
59. Cruse tip reminder: don't lose your cruise key card! It's important to keep track of throughout the cruise as it's used to open your stateroom door, make onboard purchases, and disembark the ship.
60. Read more tips on what to do on embarkation day before, during, and after.
When You Finally Board the Cruise ship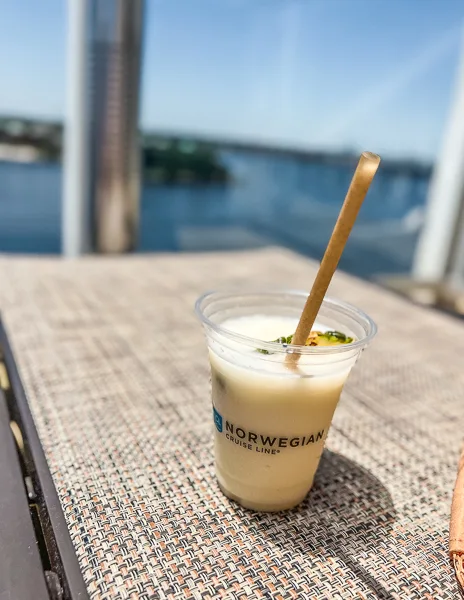 61. Get a drink! You're on vacation. Bring on the fruity beach drinks!
62. If you need to make any changes to restaurant reservations or make new reservations, check at guest services, where you can make these changes. Sometimes, you can go directly to restaurants or theaters.
63. Tour the ship. On day one, everything is open. Including the spa.
64. Get lunch! See what restaurants are open on embarkation day.
65. See if your stateroom is ready. Drop off your carry-on if it is. If not, sometimes your cabin steward will allow you to drop off your carry-on while you go off to start your cruise vacation.
66. Find your muster station location (it will be listed on your cruise card). Before the cruise can set sail, all passengers must attend a mandatory safety drill. Depending on the cruise line, you may need to check in with your muster station as soon as you board and watch a video from your phone or cabin instead.
– Don't Miss: Cruise vs All-Inclusive Resort –
Cruise Cabin Tips
67. Get to know your cruise ship cabin steward and introduce yourself.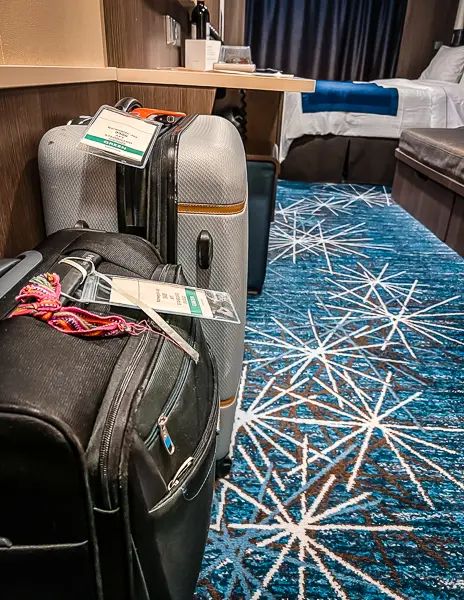 68. Unpack as soon as you get your luggage or before going to bed. It makes such a difference to put everything away. Do this on the first day.
69. Did you know that you can hide your luggage under the cruise beds?
70. Request hangers, an extra blanket, or a pillow from your cruise ship cabin steward, if needed.
71. If you have a balcony, close the curtains at night, so the light doesn't bother you while trying to sleep.
72. If you have valuables, use the in-room safe to store them away.
73. Use hooks on the back of doors or an over-the-door shoe organizer in the bathroom to organize toiletries and other items. This is one of those helpful cruise tips if you're traveling as a family of 3 or more in a cabin.
74. Did you know that your cabin walls are made of metal? You can use magnets to hold documents or magnetic hooks to place other items on the walls.
Cruise Ship Tips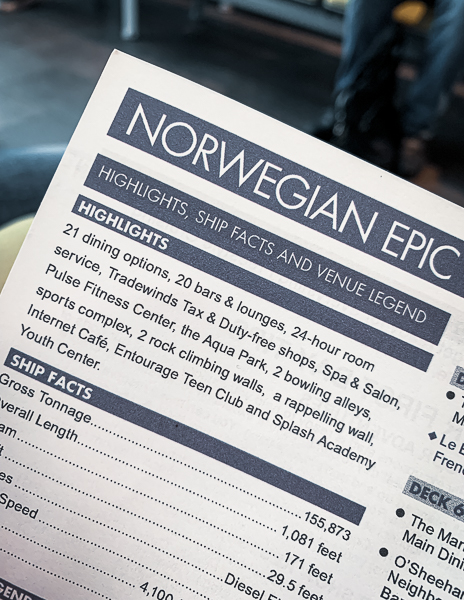 75. Always check the daily cruise ship schedule for events happening each day. We take photos so we can always refer to the newsletter rather than carrying it around with us. You may also have access to the daily via your cruise app.
76. If you need to visit the Guest Services desk at any time during your cruise, go late at night, it's usually quieter.
77. Use the stairs instead of an elevator when there are lines or crowds. Also, it's a great form of exercise while on the ship.
78. Speaking of exercise, cruise ships have a gym that all passengers can use for free. Sometimes the sauna or steam room is included, on some ships.
79. The jogging track is a great way to get those steps in outdoors. It's my favorite thing to do when cruising so I can hit my daily 10 steps or more.
80. Few cruise ships have self-service launderettes, but if you're does, these are great to use mid-way through your cruise or on the last day when you need to pack light. If not, look out for a laundry special offered in the middle of the week.
81. Cruise ships have a medical center. If you aren't feeling well, go and see the doctor or nurse on board.
82. Cruise ship photographers are everywhere on most nights! They will take your photo in front of iconic landmarks, at dinner, and at other locations around the ship. You can purchase these photos after the cruise or digital copies to share with family and friends.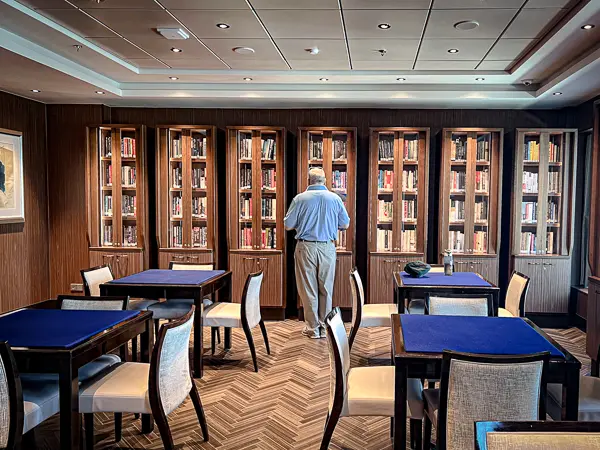 83. Cruise ships have a library on board where you can borrow books or games during your cruise vacation.
84. Cruise ships will have a kids club and teen clubs. Sign them up on the first day of the cruise.
85. Carry small bills for tipping on the cruise.
86. The time on cruise ships changes as they enter new time zones. They will advise you when to set the clocks back or forward.
87. Purchase discounted cruise deposits for your next cruise. Every cruise line offers something different. When we cruise Norwegian, we always take advantage of their Cruise Next offers.
Food on a Cruise
88. Specialty restaurants are usually discounted on the first night of the cruise, check online for offers. If you don't have a free perk to eat at a specialty restaurant, this is a great way to try one.
89. You can order as dishes as you like in the main dining room. Don't be afraid to have an extra appetizer, share another entree with your partner, or order multiple desserts.
90. Breakfast is served in the main dining room every morning. On some sea days, lunch is too. You're not just stuck with eating at the buffet.
91. Have any allergies or dietary restrictions? Let the cruise line know in advance. On some cruise lines, the waiters will also always ask right before taking your order.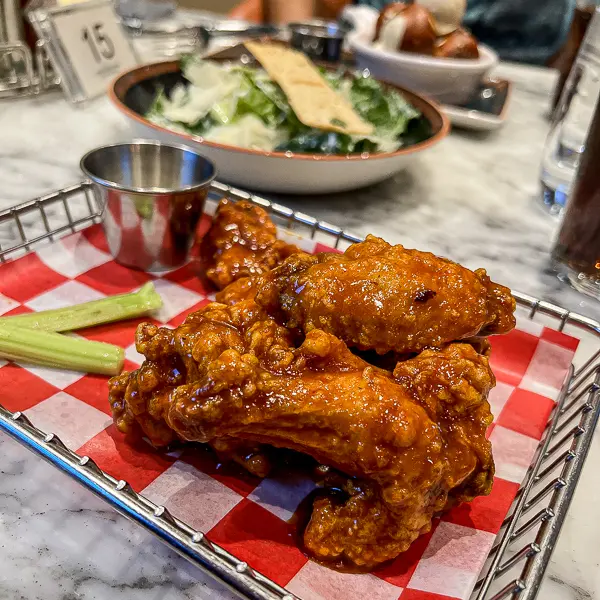 92. Cruise ship food is usually very good. If you're not happy with a particular dish, don't hesitate to ask for something else or send it back.
93. Cruise lines offer room service 24/hours a day; however, there may be a delivery surcharge. Continental breakfast is usually free delivery.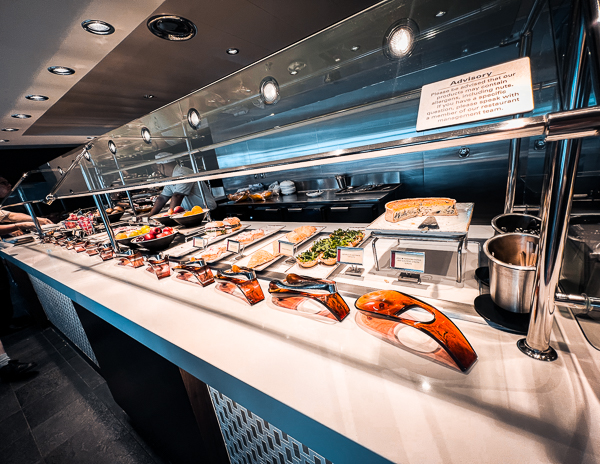 94. Stop by the buffet for snacks and bring them back to your cabin or favorite spot on the ship to enjoy.
95. Order room service the night before for breakfast the next morning. It's a great wake-up call. One of our favorite cruise tips.
96. On some cruise lines, they will have themed lunches and dinners, like seafood night or Caribbean night. You can ask the Maître d in advance so you don't miss out.
97. The buffet is usually open for breakfast, lunch, and dinner. Cruise ship buffets are pretty good and offer a wide variety of food.
98. Some cruise ships offer afternoon tea with finger sandwiches, scones, and pastries.
99. Don't forget to have a soft-serve ice cream cone every day. Life is too short. There is also sometimes scooped ice cream that you can add toppings to in the buffet.
– Don't Miss: What's included in a Cruise? –
Entertainment and Activities
100. You may need to make reservations for some shows. Do this in advance. You can also always show up early and get on standby.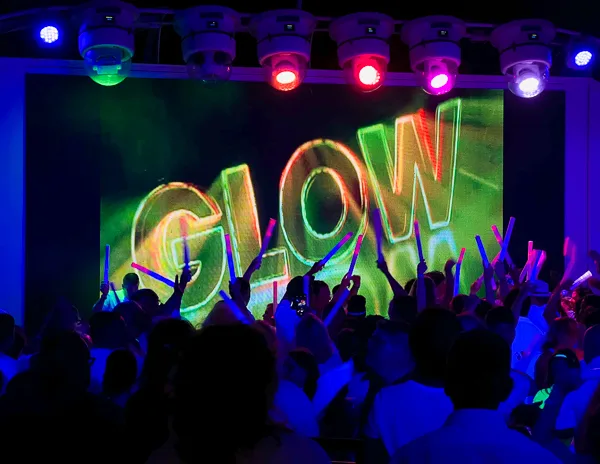 101. Some cruise ships have themed parties that are a blast. Sometimes they even encourage cruisers to dress up for it. We suggest doing some research in advance and perhaps adding a few items to your luggage for it.
102. Bingo is a popular cruise activity on cruise ships. It may cost extra, but it's a lot of fun. Keep an eye out for the last sea day of your cruise when the big game usually takes place.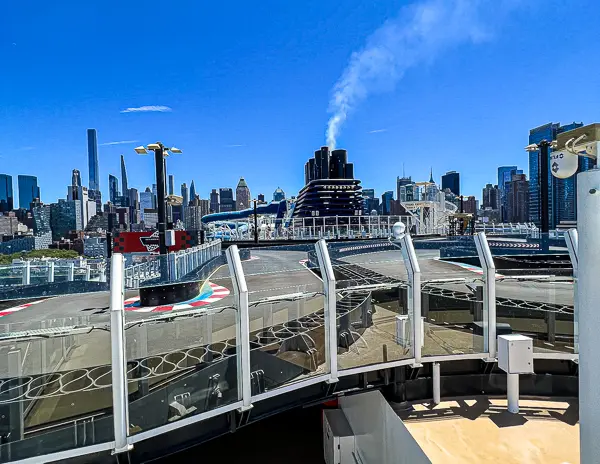 103. Some cruise activities on cruise ships, like go-karts, cost extra and also require advance scheduling. Looking to do these activities on port days or later on during the cruise.
104. Live bands and piano players will play throughout the ship at different times and locations.
105. Some cruise ships offer dance lessons, wine tasting cooking classes, and other interesting activities. These are usually offered on sea days. So check your cruise daily schedule and make sure to sign up.
106. The cruise pool deck is almost always full unless you wake up at the crack of down to grab seats. Wait till the late afternoon, when people start to leave to get ready for dinner to enjoy the pool deck. You can also find a quiet spot in other parts of the cruise ship to enjoy.
Things to Do on a Cruise
A cruise ship vacation is a destination in itself. You can spend the entirety of your cruise ship vacation just enjoying all that a cruise ship has to offer from free cruise activities to paid ones.
Shore Excursions and Tours
107. Booking your own shore excursions is cheaper than booking via the cruise line. We always advise booking your own excursions.
108. However, booking a cruise ship organized shore excursion sometimes has its advantages, like a guaranteed return to the ship. We always advise you to check out their transfer options into cities.
109. Exploring on your own without a tour has its benefits, too. It's usually cheaper and you can go at your own pace.
110. That being said, we always recommend doing a little research in advance to figure out the best way to get around and what there is to see and do.
111. Always plan to be back on the ship at least one hour from departure time. Especially if you didn't book a shore excursion with the ship, the cruise will not wait for you.
Cruise Port Tips
112. Research cruise ports ahead of time.
113. Check to see if any cruise ports on your itinerary are tender ports. This means that a boat will shuttle passengers from the ship to the port. If possible, schedule your tender for as early as possible to maximize your time in port.
114. Cruise ports are easy to navigate. There's almost always a cruise terminal with plenty of shops and restaurants. While they are convenient, don't get stuck at the cruise terminal… book a tour or plan to explore on your own.
115. Taxis and other transportation options are always available to venture out further. If you do take a taxi, ask how much to get where you want to go before getting in.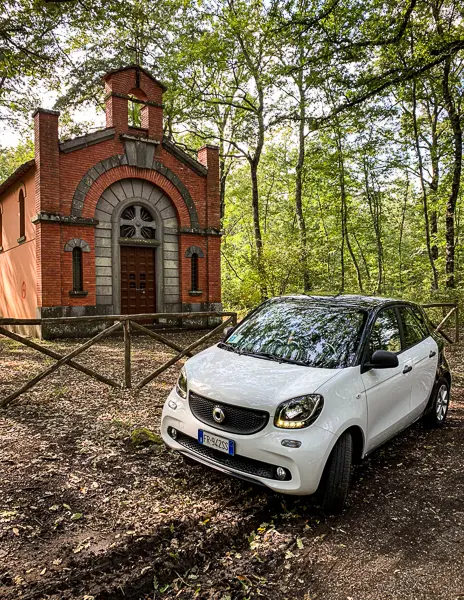 116. You can also rent a car or other types of transportation at cruise ports. We have done this many times to reach cities or villages that we couldn't get to with public transportation. For example, Civitavecchia to Civita di Bagnorio. To avoid scams, book, and plan in advance with a big car rental company.
117. If you're looking for things to do at a specific cruise port, make sure to check out: Western Caribbean, Southern Caribbean, and Western Mediterranean.
118. Need an ATM at a cruise port? We recommend using credit cards for everything you can, but if you need an ATM, make sure you use one that's inside a big national bank.
119. In cruise ports, it's the perfect time to check for free wi-fi. You can also use any unlimited international services you may have with your mobile carrier. We use our T-mobile international plan.
Disembarkation Day Cruise Tips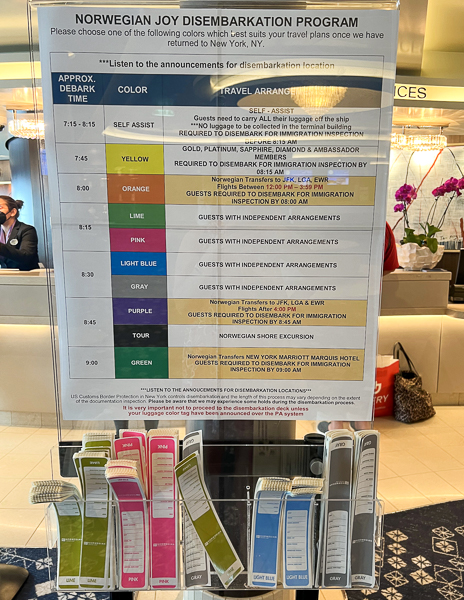 120. Grab your luggage tag to disembark the ship on your last full day. You'll have to leave your luggage outside your room the night before if you do not plan to do a self-assist.
121. Have a late flight? Take your time having breakfast in the morning and enjoying the last couple of hours of your time on the ship.
122. Want to disembark early? Do self-assist and keep your luggage with you, so you can disembark first thing in the morning. There may be a line, but it goes quick and you'll still be off the ship faster than if you had waited till later.
FAQs
What is the first thing you do when you go on a cruise?
After checking in with your designated muster station, the first thing you should do when you go on a cruise is to explore the cruise ship. It's the best time to familiarize yourself with the ship and start scouting out the ideal spot to be for sail away. Grab a drink and have lunch.
How long should your first cruise be?
As a first-time cruiser, try not to book a cruise longer than 7 days.
Are masks required on cruises now?
Masks are presently optional on most cruise lines. However, they may be required at certain port-of-calls.
What are you waiting for? Cruise with these 122 cruise tips! 
Cruising is a popular vacation choice that provides endless opportunities to explore many destinations and have a great time doing it. With so many options, it's important to be prepared and know what to expect. Now, make your cruise dreams a reality!
What cruise tips would you add to this list? Let me know in the comments below.
Don't forget to share the love on Pinterest: